This story from a recent Illinois Project Lead The Way newsletter is perfect for Introduce a Girl to Engineering Day. It was first published as part of an article about PLTW by Jim Nelson in Illinois Manufacturer. The author, Elizabeth Lee, is a PLTW student at a local high school. I'm sharing it with permission, though I changed the paragraph breaks so it reads easy on screen.

Elizabeth's comments about about real life application of math concepts certainly resonates with my memories of advanced math classes. Many think that helping students, especially girls, make these real life connections is a key to cultivating involvement in engineering. 
Introduce a Girl to Engineering Day Reflection
I am currently in Principles of Engineering (POE), one of the classes offered as part of the Project Lead the Way (PLTW) pre-engineering program, and it is one of my favorite classes. I can't recommend it or encourage it enough to my friends.
The odd thing about it is that it has a load of math and yet, I love it. I wouldn't say it's very math heavy but you have to know your way around numbers. I hate math but I love POE.
Normally, in math, I have a hard time understanding why we use some of the formulas or why we need to learn them or how they have a real life application. During the trigonometry unit sophomore year, I couldn't help but think that people don't use trig to figure out how far away a third tower is . . . and I just didn't understand why. But in POE, everything has an application. You don't learn a variable because it's there, you learn it because you need it.
We used trigonometry extensively during the Statics unit and I have to be honest, I struggled for a bit during the calculations. I couldn't wrap my brain around the fact that the static members (which involves analyzing loads on physical systems in equilibrium) themselves don't have to create right angles when you go to calculate the stresses on the members. It went against everything I learned in math. [I believed] you have to have a right angle to use trig, but it turns out you don't.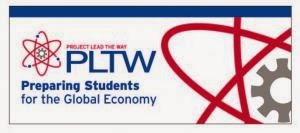 I had to do a sort of re-calibration from this mindset of, "since it's a math problem: one solution – one way" to a more abstract way of seeing the formulas in use. It was still math, which I still hate, but it was applied. I understood why I was using it and why it worked much more readily, than I did during the actual unit in my Math class.
POE wasn't just different from math, it was also very different from Physics. I currently take Physics along with AP Bio and although Biology doesn't overlap too much with POE, Physics certainly does.
One of the hardest parts was getting over the difference between Physics vectors and Engineering vectors. Physics wants to see exactly what the forces are doing, so you would point the vectors in the direction the forces are going. But Engineering is different. It looks at how the members would react. I had to go in and talk to my teacher, Mr. Silvers, a few times to clarify this in my head. I would slip up and use the wrong vectors in the classes and when I tried to explain why I would switch my vectors, my Physics teacher didn't understand. The lack of communication between the two disciplines led to that sort of confusion. It also led to where I really didn't need to take notes during Physics because we already went over the formulas and events of such things like Torque, Work, Elastic Potential, and other things already in POE.
Communication is a huge thing in POE. Some of the labs are predetermined and we carry out the instructions, but there are some at the end of a unit where it is all on us. Mr. Silvers gives us the design brief and we create our own machine to fulfill the criteria.
Recently, to round off the Statics unit, we had to create a bridge that spanned at least six feet and carry a minimum of fifty pounds. I've done builds before, but on a much smaller scale and I normally work alone. But working alone, as redundant as it sounds, is lonely. There's no one to bounce ideas off of, no one to pipe up with a different perspective, no one to tell you to drop an idea that isn't going to work, no matter how hard you try. You have to adapt and modify. If anything, I learned how close people can work to their breaking point. And I learned where mine was as well when we had to finagle two members together from scraps.
It all worked out great in the end, but the experience was high-strung and enlightening. I learned very quickly not to take or make the project too personal. Because it's not my project, it's the group's. And even if it feels as if I have more invested in it, I don't. It is every much the slacker's as it is the over-achiever's.

Like The Maker Mom on Facebook. Subscribe to our monthly newsletter. Follow us on Pinterest and YouTube. Follow The Maker Mom on Google+.