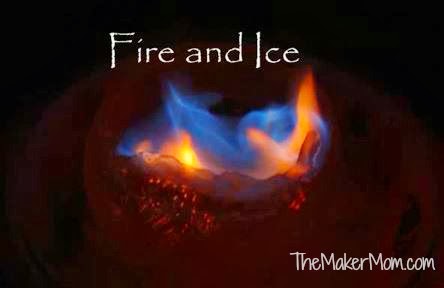 This is the winter break that never ends! Like much of the country, we are enjoying experiencing the effects of the polar vortex. What's a maker mom to do in this cold? Make stuff, of course! Yesterday, I baked cookies and my sweet, sweet potato pie (recipe coming soon) and we tossed a cup of hot water into the air like everyone else muddling through a day with a windchill of around 40 below. But we went beyond all that.
Inspired by Candace's post yesterday at Bedtime Math (where I'm the editor), we made ice orbs. But we went beyond that, too buy turning them into ice lamps.
Normally when I make these ice spheres, I stick the balloons in the freezer overnight, but given our weather, we simply left them in the snow for a few hours. They felt frozen, but it turns out the contents of the larger balloons had not fully solidified.This turned out to be ideal for turning them into lamps, though, because when I peeled away the latex, some of the figures naturally cracked into bowl-like vessels. Perfect!
We had to bring them inside to light because it was just too windy outdoors. Our first attempt at burning a bit of bourbon failed, as did rum. Finally, we turned to good old rubbing alcohol and you can see the results below.
If you try this at home be careful. I wish I had noted this in the video, but to extinguish your flame, cut off its oxygen. This can be accomplished by placing a plate or upside down bowl over the fire.
What winter activities are you enjoying?

Like The Maker Mom on Facebook. Subscribe to our monthly newsletter. Follow us on Pinterest and YouTube. Follow The Maker Mom on Google+.