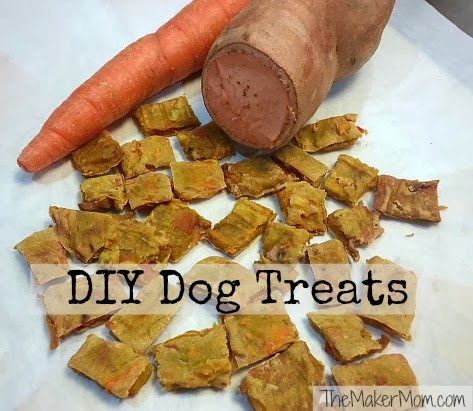 "What if?" I wondered as I looked at a small pile of carrot ends left over from the salad I was making, "I made these into dog treats?" Tesla, the wonder pup, loves his veggies. As we learned last summer in our garden, he'll devour the stalk of any variety of greens like an addict. We used to train him with garden fresh peas, bits of broccoli stalks and carrots pulled from the ground.
So I Googled around enough to reassure myself I wasn't going to poison him and commenced to making my own dog treats. Now every week or so I mix up a batch based on what we're eating or what's about to go bad on our counter top, like those bananas that I never seem to make into banana bread despite my best intentions.
In fact, I'm bringing a batch of my DIY Dog Treats to the upcoming Northshore Chicago Food Swap that I made using butternut squash pulp (leftover from a soup of that type I made for dinner) and sweet potato combined with bits of shredded carrot and a mushy banana.
I chop my veggie scraps into small pieces add an egg and flour (I've been using white, but from what I gather rice or oat will work well) and mix to a fairly thick batter.
I line a cookie sheet with parchment and spread out the mixture because, hello! I'm making these for my dog and he doesn't care how cute they are.
I haven't quite pinned down a specific baking temperature or time, but I want the finished product to be dry and crispy (better for his teeth than moist and chewy, I think). I bake them around 300 F, a lower temperature than cookies, and for a longer time. And as I learned making baked apple chips, I tend to let them dry in the oven.
But there's a little more to it. I might be making this part more complicated than I need to, but say I have it in for 25 minutes at 300. I check it to find I have a solid, but moist slab. I flip the slab over on the cookie sheet and if it's solid enough, I criss-cross it with a pizza cutter to create individual pieces, and then I put it back in the oven for another 15 minutes or so. I'll check it at the appointed time and them decide whether to leave it for another few minutes or turn the heat down to maybe 225 and set the timer for 30 minutes to an hour. When they feel almost baked, I'll turn the oven off and let them cool in the oven.
I warned you that last part was wonky. If you're looking for solid dog treat recipes Google can help you out. My bigger point is it's easy to mix and match and play around with what you've got on hand. You're baking for a dog, not a person, so the treats don't need to look or taste like they're the centerpiece of your firstborn's first birthday party.
Speaking of taste, there's no reason you can't sample these yourself. I may have passed a few off to unsuspecting family members simply because I could. That said, one could argue that without butter and sugar (not to mention chocolate chips) they're just not fit for human consumption.
Our pup has loved every batch of dog treats I've made so far, but he also eats his own poop on occasion, so clearly he's no connoisseur.
Let me know if you have a favorite dog treat recipe or ingredient.
P.S. My friend Lisa has a bunch of recipes on her blog.