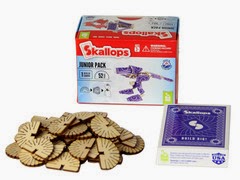 I think I've pointed out some pretty cool STEM gifts this year and in 2012. However, I've come across some other lists worth a look. Updated to add: here are exciting new STEM and Tech toys that made my 2014 list.
More Great STEM Gifts for Tweens and Teens
The folks at MAKE have a STEAM-y gift guide. Don't miss the Flipbookit and Skallops.
NASA's Goddard Child Development Center has a guide to gifts with tips on finding toys that encourage STEM exploration. They make a few recommendations, too.
Why should kids have all the fun? Check out these designer toys for grownups (no, not those kind of adult toys).
For the family with a really large basement or lots of closet space and a budget to match, see 82 More Must-Have Tech Toys. The title of the piece makes me throw up in my mouth a little bit and the 82-page slide show is also annoying, but they do point out some interesting items.
In case you missed it, here's my a recap of my recent TV segment.