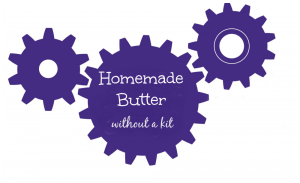 Have you tasted fresh, creamy butter? Mmmm; it's smooth, delicious and apparently a bit trendy. Lately I've seen high-end stores like Sur la Table and Williams-Sonoma advertising DIY butter kits for upwards of $20. Highway robbery, I say! Now, this maker mom likes kits.
Kits are the gateway drug to bigger and better making.
Kits introduce and help teach new skills and often supply a beginner with starter items they need to pursue a hobby. But, please.
How to Make Butter
All you need to make fresh homemade butter is cream and a glass jar. Or a cylindrical Tupperware container. A handheld salad dressing or smoothie mixer would work well, too. Some people toss in a marble to help agitate the cream, but I don't think it's necessary.
How to Make Butter
Just fill the container about 1/3 of the way up with cream, close tightly and shake, shake, shake to separate the cream into it's constituent fat and liquid (buttermilk).
Easy peasy and so deliciously creamy. Check out this video my boys and I made years ago.
We used to do a thing where we'd start mixing up a batch when guests where coming to dinner and we'd have everyone help shake the container to mix up the butter thereby creating a sense that everyone contributed to part of the meal.
You can salt it, sweeten it, add a few herbs or a bit of food coloring. Whatever you do, savor your rich homemade, preservative-free spread.  Or simply spread it on your thighs because you know that's where it's all going, anyway.

Like The Maker Mom on Facebook. Subscribe to our monthly newsletter. Follow us on Pinterest and YouTube. Follow The Maker Mom on Google+.