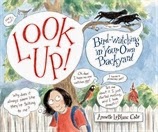 I don't know why it's taken me so long to review Look Up! Bird-Watching in Your Own Backyard (affiliate link). It's a wonderful book. Written and illustrated by Annette LeBlanc Cate, this adorable book on bird-watching is dense with facts. However, all that information is presented in such an engaging manner thanks to lively illustrations and an adorable cast of opinionated illustrated birds of all types of beaks and feathers.
Look Up! is a great book on bird watching for beginners.
It's a fun book that is sure to turn many youngsters on to bird-watching. I've even found myself eyeing my backyard birds in a new light.
Do you notice whether birds have long pointing hind feathers like the mourning dove or more compact ones like the swallows possess? You and your child will after reading this book.
Look Up covers bird-watching etiquette and tips for getting started, including necessary supplies. Cate points out a variety factors to observe from color to silhouette and size and style of beak. She sometimes gets into the nitty gritty, like how to differentiate a marsh wren from a house wren. She discusses feathers, claws, beaks, sounds, diets and migration habits. Like I said, she's packed a lot into this book.
I think this book makes a great gift for children ages 5 -12 years-old. The hardcover retails for around $16 and stands great on its own. However, if your budget allows, it would be even better paired with a sketch book and a set of colored pencils. Take it up a another notch by adding in a good set of binoculars and a field bag.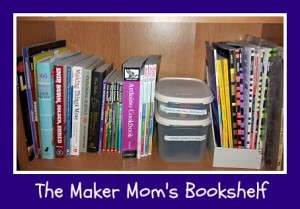 The publisher provided a copy of this book for review.
Like The Maker Mom on Facebook. Subscribe to our monthly newsletter. Follow us on Pinterest and YouTube. Follow The Maker Mom on Google+.