Image via GeoGreeting.com
Last week's Geography Week #STEMchat was fabulous- a rich discussion with knowledgeable and passionate participants. If you want to join future chats, like the one in December on Kids and Computer Programming, sign up for an email reminder and you'll get pinged the day before.
This post contain affiliate links.
Why Geography Week?
While we didn't stress this overtly during our chat, geography is an interdisciplinary field that has a strong relationship with STEM. Besides the fact that modern mapping methods are high tech, geography involves a lot of math. A good primer might be the downloadable PDF, Enhancing STEM Education with GIS (Geographic Information Systems). 

And now without further ado, here are great resources for National Geography Week and raising kids who love geography. 


Geography Week Resources
Books:
And a book too new to garner a mention in the chat, Micronations: Invent Your Own Country and Culture with 25 Projects, written by STEMchat friend, Kathy Ceceri.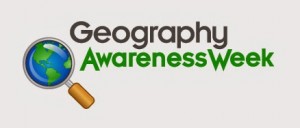 Apps and Games
Endless Ocean Wii game
GEO Quiz Android app and for iOS
Spinlight Geography Drive app
Geocaching
Mission Explore website
GeoGuessr, an addictive web-based game; STEMchat regular Amy Kraft of Media Macaroni shares her thoughts on GeoGuesser (hint: she's a big fan).
PRI's The World Geo Quiz
Websites
Panelist Seth Dixon, a geography professor, shares a lot of great resources on his Scoop.It! site. Here's a sampling: geography education, geo ed with more direct STEM connections, and geo ed with math connections.
Geo Greeting I used this fun site to make the image near the top of this post.
National Geographic Alliance for Geographic Education Click to find your state alliance; all are welcome!
Geographic Information Systems: Education Technology Consultants– Free geography resources for teachers, parents, and students.
There's a Story for That Uses maps to help teach other subject/content areas.
From National Geographic Education:
Rent a giant map for your school, library or museum.
Geography for Life
Tips for incorporating geography into education
Global Closet Calculator – A colorful, interactive game helps kids understand how the items in their homes connect them to the rest of the world.
TED Talks
Twitter Accounts and Hashtags
@NCGE1915
 National Council for Geographic Education
#GeoWeek  Geography Week
Other
Using Minecraft to explain Von Thunen's Model, which has to do with the location of agricultural activities based on the location, transport and perishability of goods.
The Atlantic article about how mapmakers are making a difference in storm relief and recovery in the Philippines.
Like The Maker Mom on Facebook. Subscribe to our monthly newsletter. Follow us on Pinterest and YouTube. Follow The Maker Mom on Google+.