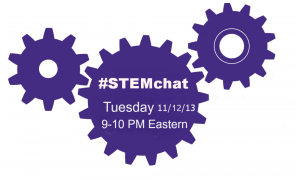 We're going to be a few days early for National Geography Week, but how could I resist hosting a #STEMchat on 11/12/13? Besides, this way you'll be prepared to make the most of the week and help your kids learn to love geography. #STEMchat will take place at 9:00 PM Eastern on Twitter.
I'm reigning in a flock (pod? a troop? an exaltation?) of passionate geographers and geography educators who will share loads of ideas and point us toward some great resources for families.
We know that geology is the study of rocks– that's an easy one. But what is geography. In its most literal form, the word translates into writing about the Earth or ground. To go a little deeper than that I'll quote the experts from National Geographic,
Geography is the study of places and the relationships between people and their environments. Geographers explore both the physical properties of Earth's surface and the human societies spread across it. They also examine how human culture interacts with the natural environment, and the way that locations and places can have an impact on people. Geography seeks to understand where things are found, why they are there, and how they develop and change over time.
I've been thinking about geography quite a bit since I interviewed geographer Emily White as part of the Shot@Life Ambassador campaign. My thoughts include an awareness of how little time out school spends on geography beyond the basics of naming states and such.
We can do better, yes?
Yes! And this month's STEMchat panelists will point us toward resources for home and school to help us raise kids who love geography. Or at least understand it.
Take a look at this month's fabulous panelists and give a follow on Twitter:
Emily White, @Roddymccorley42, Doer of geography and other stuff.
Barbaree Duke, @barbareeduke, an educator and curriculum developer who uses geospatial technologies as part of integrated learning to improve students' thinking (and test scores).
Katrinka Somdahl Sands, @kcssgeo, geography educator and self-described provocateur.
Shannon White, @ShannonHWhite, an educator and instructional designer who also uses geospatial technologies and is involved with 4-H.
Seth Dixon, @APHumanGeog, college professor and AP Geography reader who shares interesting geography finds.
Me, @KimMoldofsky, (and @STEMchat).
We may be adding a geo-curious parent or two to the panel as well, so stay tuned.
Join in on 11/12/13 at 9:00 PM Eastern ready to share your favorite geography projects and resources!
Like The Maker Mom on Facebook. Subscribe to our monthly newsletter. Follow us on Pinterest and YouTube. Follow The Maker Mom on Google+.