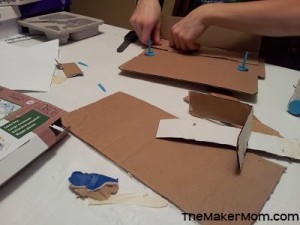 Save those boxes and tubes!
In honor of Hack Friday, as you think about holiday gifts, I urge you to consider the kinds of gifts that keep on giving. Things that strikes a passion point beyond the latest new gaming system or gadget. Give stuff that makes stuff is one way of putting it. In my recent post at Sylvan's Mom-Minded blog, I share tips on starting and stocking a basic makerspace in your home and write about plenty of simple supplies that help your kids make cool stuff.The advice also applies to libraries and classrooms.
I've outlined basic elements, most of which are low, and sometimes even no, cost, and can lead to hours of creative inventing. Let me know your go-to supplies for basic maker fun!
Like The Maker Mom on Facebook. Subscribe to our monthly newsletter. Follow us on Pinterest and YouTube. Follow The Maker Mom on Google+.