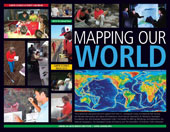 Wake up, kids. It's Earth Science Week! This year's theme is Mapping Our World. According to the Earth Science Week site this year is all about, "learning how geoscientists, geographers, and other mapping professionals use maps to represent land formations, natural resource deposits, bodies of water, fault lines, volcanic activity, weather patterns, travel routes, parks, businesses, population distribution, our shared geologic heritage, and more. Maps help show how the Earth systems – geosphere, hydrosphere, atmosphere, and biosphere – interact."
As an adult, this sounds kinda cool, but in high school Earth Science had sort of a "rocks for jocks" reputation. Students who liked science took biology, chemistry and physics instead. I'm thinking there's still a bias against it because it's not on my son's schedule, either.
Check out these daily Earth Science themes, ideas and fun to get you through the week:

Like The Maker Mom on Facebook. Subscribe to our monthly newsletter. Follow us on Pinterest and YouTube. Follow The Maker Mom on Google+.