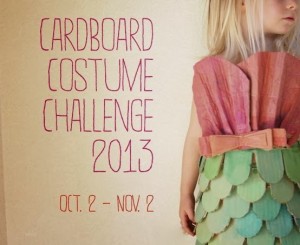 No not my contest, I'm scrambling to stay afloat among family, the puppy, work, Science Olympiad and Vex Robotics, not to mention prepping for another TV segment on great STEM gifts for kids this holiday season. Still, this looks cool and I hope some of you participate. The Cardboard Collective, a cool site devoted to crafty things made of corrugated board, is hosting a cardboard costume challenge.
Looking for inspiration? Check out their Pinterest page.
I feel a duty to warn you before you, say, turn your child into a big, boxy robot. You see, in third grade I sported a very boxy homemade record player costume (it wasn't even a hipster thing way back then) and it was quite cumbersome. That costume made for some awkward treat-or-treating moments. The good news is that the Cardboard Collective site not only has loads of great ideas that go beyond the box, but they have tutorials, too.
The contest runs through November 2. Be creative and have fun!
,Like The Maker Mom on Facebook. Subscribe to our monthly newsletter. Follow us on Pinterest and YouTube. Follow The Maker Mom on Google+.