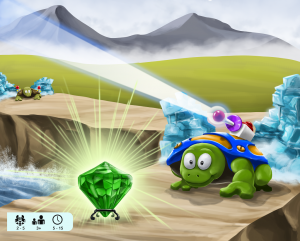 At the risk of sounding like an infomercial- act now, this offer is only good for a limited time! A few weeks ago one of my dynamic, entrepreneurial, techie blogger friends, Maya Bisineer introduced me to Dan Shapiro, mentioning that his Kickstarter project might be of interest to me (and you)–a board game called Robot Turtles that teaches programming basics to very young children ages 3-8.
I loved the concept and was eager to spread the word. Unfortunately, some health issues with my parents, not to mention the wonder pup who constantly begs for my attention and a few other projects prevented me from being one of the first people to share this with the world..
On the bright side, it's clear that Dan, a seasoned tech entrepreneur, did just fine without me. With only three days left in his campaign, he's far surpassed his original goal of $25,000 to publish and distribute the game. In fact, as of this writing, he's inching his way toward half a million dollars. Uh, and yeah, he's received coverage from way bigger outlets than mine, which makes me especially appreciate the time he spent chatting with me.
I interviewed Dan for the "Five Thoughts about Math" series at Bedtime Math where I'm the managing editor of the parent blog. Read how his mom set him on the path to be a tech superstar.
And be sure to check out Robot Turtles while you have the chance!

Like The Maker Mom on Facebook. Subscribe to our monthly newsletter. Follow us on Pinterest and YouTube. Follow The Maker Mom on Google+.