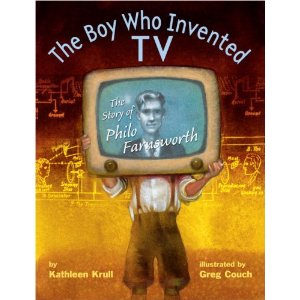 I think I've mentioned that I'm the managing editor of the parent blog at
Bedtime Math
, a site that encourages an evening math problems (and other math fun) for kids ages 3-8.  The Bedtime Math folks share a daily math problem via their website, email, and app and their
Facebook page
.  At any rate yesterday's math problem gave a nod to
The Boy Who Invented TV, Philo Farnsworth
,
 in honor of the anniversary of his 1930 patent. That reminded me about this great picture book about Philo.
This review originally appeared on my personal blog.

The Boy Who Invented TV is about Philo Farnsworth, a farm boy with a lifelong passion for gadgets and a knack for fixing worn mechanical objects as well as inventing new ones. One day he gets an idea for how to use cutting edge technology, electricity, to send pictures to a viewer, something we now know as television.
Every child in America spends hours a day in effect praying at Farnsworth's altar, but how many even know his name? Regardless of whether you now praise Farnsworth or damn him under your breath, this is an inspirational story. There's also a cautionary element that reminds parents that their little inventors need business smarts in addition to technical ones. Much like
Nikola Tesla
, Farnsworth never received the credit due for his invention.

Like The Maker Mom on Facebook. Subscribe to our monthly newsletter. Follow us on Pinterest and YouTube. Follow The Maker Mom on Google+.