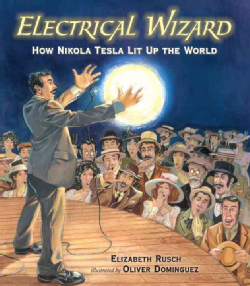 Electrical Wizard: How Nikola Tesla Lit Up the World
 is one of two great STEM books I recently received for review from Candlewick Press. Written by Elizabeth Rusch and illustrated by Oliver Dominguez, this books fills an empty space on many bookshelves. After all, there are countless books for young children about Thomas Edison, but this is the first I'm aware of on Tesla.
(Yes, Tesla is also the name of our puppy. Click for cuteness.)
At Last, a Tesla Book for Kids
Years ago, I remember driving school carpool and hearing the 8-year-olds in the back seat arguing over who was better (smarter? more inventive?) Edison or Tesla. I'm not sure how they even knew about Tesla, but this was back when my boys attended a gifted school and those kids were knee-deep in all kinds of books.
The picture book follows a typical biography- sharing bits of Tesla's childhood, his inspiration and inventive nature, challenges he faced and, of course, his triumphs and pursuit of the American Dream.
I wish the author had taken more time to explain alternating current versus direct current in the story, one of the key Edison v. Tesla arguments, but I'm wiling for forgive her because I'm just so glad to see a children's book on Tesla. Also, the book concludes with dense (but age-appropriate) text on Tesla's life and other inventions, his rivalry with Edison, a deeper explanation of the aforementioned AC vs. DC and other scientific notes.
Unlike Tesla's real life, this book ends on a happy note. Which is appropriate given that its target audience consists of 7-10 year-olds. Electrical Wizard is good home purchase, but it's a must-buy for schools and libraries.
This post contains affiliate links.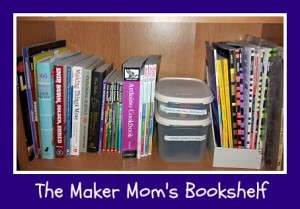 Like The Maker Mom on Facebook. Subscribe to our monthly newsletter. Follow us on Pinterest and YouTube. Follow The Maker Mom on Google+.