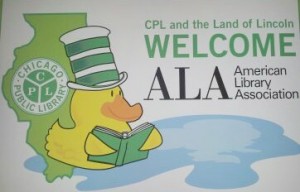 Last Friday I had the honor of speaking at an American Library Association pre-conference event on makerspaces in libraries. Held at Chicago's Harold Washington Library, attendees also got a sneak peak at that libraries new Fab Lab. (It is fabulous*, but it's a small makerspace, accommodating only a dozen patrons at a time.)
Serving on a panel with local rockstars including Katie from the Chicago Children's Museum Tinkering Lab, Dan from the Museum of Science and Industry's Fab Lab and Jackie from the Level Up Chicago Youth Makerspace was a bit intimidating. After all, they all run big programs and I sit at my dining room table with a few kids and sometimes participate in community events (speaking of which, save Saturday, July 20 for Science Day at the farmer's market). I asked to be the last panelist to present so I could fill in the blanks left by the other speakers. There weren't many, but here's what I added to the day's conversation (and then some) about libraries creating makerspaces.
Katie discussed the kinds of items they use in CCM's Tinkering Lab, noting that they avoided tape because it felt "too crafty." I completely understand what she meant and why it might feel wrong for their exhibit, but if a library is creating a makerspace for young kids up through teens I say research every type of tape you can find and include it all. There are many things that can be made from duct tape, painter's tape can add interesting artistic elements to projects, my younger teen builds 3-D statues from clear tape and washi tape is a thing these days.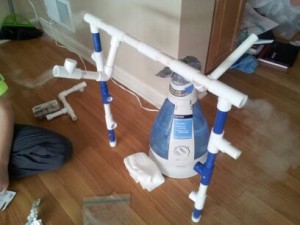 Just another day at The Maker House
An assortment of PVC piping is another great addition to a basic makerspace, one that doesn't involve (or allow for) soldering and hot glue guns. These can lead to creative, open-ended building fun. Also, PVC is inexpensive. You'll need to cut down and smooth the long lengths of PVC (an activity which should not involve kids for safety reasons) into sections ranging from 3-10 inches or so. Be sure to purchase "T-joints" and "elbows" to connect the straight pieces, and pick up a few end caps, too.
Save your cardboard! Never underestimate what a kid can do with a bunch of old boxes. On a related note, you don't need a makerspace to participate in the 2013 Global Cardboard Challenge.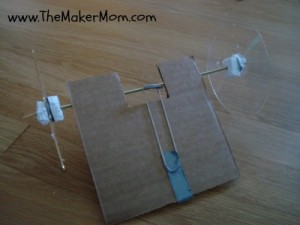 For more ideas on simple makes and a reminder about what's so great about tinkering and making, check out my video at the bottom of this post.
How do you know what to do when undertaking a new project? Kits can be expensive, but they are the gateway drug to bigger and better making.
Oh, and because his name came up in conversation, I put in a plug for Gever Tulley's book, 50 Dangerous Things (You Should Let Your Children Do). See his TED talk on the topic.
A library or youth makerspace that wants to go a bit higher tech should consider:
Looking for ideas and instructions? Instructables and Make are good choices, but for kids, Design Squad Nation** is great. They have loads of projects ideas for tweens (kids 8-12), most of which are family simple and use basic supplies.
Looking for a model of a good family makerspace? Check out the LA Makerspace, Mt. Elliot Makerspace, and Mothership HackerMoms. Also, check to see if there is a local Hacker Scouts group near you.
Okay, so I embellished on my talk once I sat down at the computer to write up my notes. One final bit I want to add is a link to Super Awesome Sylvia, a great role model for girls who might be tentative to dip their toes in a higher tech maker maker world.
Drop me a note if you have questions about starting a makerspace in your community!



* I learned the hard way that the "Fab" in Fab Lab stands for Fabrication, not Fabulous.
** Design Squad Nation is a former client; they sponsored the November 2012 #STEMchat discussion.

Like The Maker Mom on Facebook. Subscribe to our monthly newsletter. Follow us on Pinterest and YouTube. Join The Maker Mom Community on Google+.