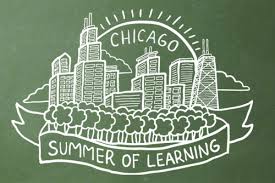 If I had a blog category called, "Kim's been living under a rock" this item would go in it. How did I miss this STEM and STEAM awesomeness from the city of Chicago? More than 100 organizations have joined together to create one of the country's largest interactive learning experiences.
Kids can earn badges by completing activities. Depending on the badges or track your child follows, he or she may wind up visiting classic Chicago sites or simply hanging out at a local host site like a library or DePaul University. High achievers may be recognized at real-life city events or at their schools in the fall.
Granted, it's very Chicago-centric, but you might be inspired to replicate some of the activities in your neck of the woods.
Sign up or learn more at Chicago Summer of Learning.


Like The Maker Mom on Facebook. Subscribe to our monthly newsletter. Follow us on Pinterest and YouTube. Follow The Maker Mom on Google+.