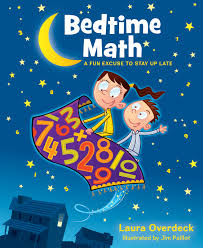 I wasn't kidding when I said that the May #STEMchat topic was recovering from my son's bar mitzvah. But it's June and I'm ready to roll Tweet. The chat will take place on Twitter on Tuesday, June 25 from 9 – 10 PM Eastern. We're talking about recreational math and making math fun with our sponsor, Bedtime Math.
The concept behind bedtime math is simple, yet revolutionary. We all know how special story time with our children is at the end of the day. We recognize that gives us a chance to cuddle and explore the world of words and stories. Bedtime Math founder Laura Overdeck and her husband decided to enhance their children's bedtime routine with a daily math problem as well. The bedtime math problem was such a hit in her family, she launched a blog featuring an evening math problems for young kids through elementary schoolers.
The bedtime math problem is also available through email subscription via their website and their popular Bedtime Math Facebook page. With more than 25,000 subscribers to the daily math problem, it was clear Laura's idea struck a nerve. On June 25th, she's releasing her book: Bedtime Math: A Fun Excuse to Stay up Late.
You can celebrate the book launch at home or connect your local library to get a free math party kit. And of course, join in the fun at #STEMchat on Twitter.
As always, #STEMchat is about the exchange of ideas and resources, the best of which will be shared on this blog and possibly on Bedtime Math's soon-to-launch parent blog where I'll serve as the managing editor (more about that later).
Join in on June 25 to share how you make math fun for your little ones and learn about new parent-tested math activities and resources.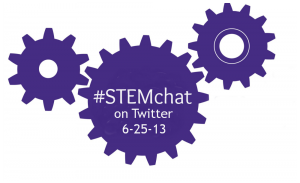 Our fab panelists include Bedtime Math's new parent bloggers and a few other friends:
Candace Lindemann, @CandaceApril, is mom, military wife, nationally recognized educator and prolific writer whose work can be seen at her site, Naturally Educational as well as at Lifetime Moms and around the web. She's also a new Bedtime Math blogger.
Jeanne Bernish, @JeanneBernish, an experienced mom who considers herself a "math-not," but has raised two math-loving teenagers. She works in the ed-tech sector and blogs now and then at Race to the Middle.
She's also a new Bedtime Math blogger.
Melanie Edwards, @ModernMami, is an engineer with a background in information technology who blogs at Modern Mami and around the web. She's also a new Bedtime Math blogger.
Fred Goodall, @MochaDad is a writer, speaker, education advocate (and part of my informal educationa Think Tank) who writes at MochaDad.com.
And me, @KimMoldofsky (AKA @STEMchat if my personal account winds up in "Twitter jail.").
See you on June 25th at 9 PM Eastern for math fun. Follow along the hashtags #STEMchat and #BTMath.
Like The Maker Mom on Facebook. Subscribe to our monthly newsletter. Follow us on Pinterest and YouTube. Join The Maker Mom Community on Google+.