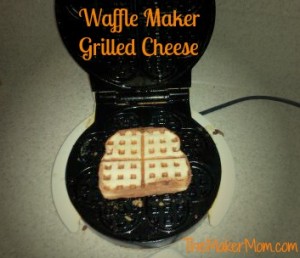 Last week a colleague pointed me to a recent TED talk by Jay Silver, co-inventor of the Makey Makey

and Drawdio, (affiliate links) electronics gadgets that help you hack your world. In his talk, Jay mentions that as adults, we sometimes know too much about how a thing is supposed to be used, to think creatively about other ways it might be used. Enter my waffle maker.
I'm about to hack my sandwich.
As happens every couple of months, the waffle maker came out of storage and helped me create a delicious weekend breakfast. As it also tends to happen, I didn't clean it up and put it away when breakfast was over. It had to cool down first, right?

When lunchtime rolled around, I eyed the waffle maker on the counter and recalled a kitchen hack I learned from my foodie friend, Jennifer Perillo, author of a Homemade with Love. She once mentioned on Facebook that she used her waffle maker to cook grilled cheese sandwiches.

With bread, cheese and a waffle maker ready to go, I gave it a try. I sprayed a bit of olive oil on a piece of bread and put it oily side down on the bottom of the waffler, covered it with cheese and topped it off with another piece of oiled bread with the greasy side up. I closed the waffle maker, waited about a minute (there's no harm in checking early) and opened it up to find a crusty-on-the-outside, deliciously-melty-on-the-inside sandwich.

Delish!

Bonus, due to the design of my waffle maker, an old Black and Decker we received as a wedding gift 20 years(!) ago that makes 4 heart-shaped waffles, the sandwiches were easy to divide into smaller pieces. The grilled cheese sandwiches were gobbled up by my teens, but I know they would've really gotten a kick out of this when they were much younger.

Waffles? Check.
Grilled cheese? Check.
French toast? Paninis? Quesadillas? Why not! I have all sorts of foods I want to try in the waffle maker now. I'm think it would be especially good for a food that is destined for dipping due to the waffled surface.
Do you have a waffle maker hack to share?
Back to Jay Silver, I'm admittedly a bit of a fangirl. He sat with me for a brief interview in 2012. Though the video has about 30,000 fewer views than his TED talk, I like it just as much–especially the ending.




Like The Maker Mom on Facebook. Subscribe to our monthly newsletter. Follow us on Pinterest and YouTube. Join The Maker Mom Community on Google+.