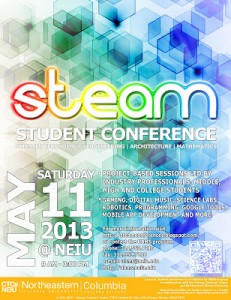 Mark your calendar for STEM + ART (and Architecture) fun in Chicago. On Saturday, May 11, 2013 Northeastern Illinois University will be hosting their 3rd Annual STEAM student conference. The program aims to attract typically under served populations to introduce them to STEM topics as well as college and career opportunities.
The conference is put on by the Upward Bound Math and Science program (UBMS), in collaboration and sponsorship from the Chicago Teachers' Center and Northeastern Illinois University, and Columbia College Science and Math Department.
The STEAM student conference targets middle and high school students who attend schools in the greater Chicagoland area. The fun days will foster science, technology, engineering, art/agriculture/architecture and mathematics learning through project-based and career-oriented workshop sessions. Hooray for interactive learning.
To learn more about this great opportunity for middle and high school students please visit the STEAM conference blog.
Like The Maker Mom on Facebook. Subscribe to our monthly newsletter. Follow us on Pinterest and YouTube. Join The Maker Mom Community on Google+.