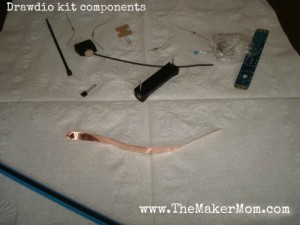 I started The Maker Mom to document my personal electronics journey as I attempted to frolic in the Arduino playground. When I say the blog quickly grew into something bigger and more exciting, that's just a nice way of saying I got distracted. Distractions aren't always a bad thing (so I keep telling myself). When I saw that MAKE is featuring resistors as their component of the month, I took notice, as I recalled this blog's humble beginnings less than a year ago.
I first purchased a handful of resistors in 2012. I was intrigued by their tiny colored bands. That is, once my son pointed the different patterns out to me. And I got bifocals so I could better make out the markings.. Surely there was a code to be cracked there. MAKE explains it all in this piece on resistors. They tell me everything I wanted to know plus a lot more.
AdaFruit's new Circuit Playground series might be more your child's speed. Or mine. Check out the first episode, "A is for Ampere." Zoot alors! (Hat tip to the MAKE folks for pointing this out.)


Like The Maker Mom on Facebook. Subscribe to our monthly newsletter. Follow us on Pinterest and YouTube. Join The Maker Mom Community on Google+.