Mini MWD 2: What more could a mama want?
Last week after a school band performance at the local mall, I ran into my son at Marbles, The Brain Store, a shop that carries thinking games, cool games and fun books like Geek Mom. The Young Maker Teen (YMT) confessed he just bought my Mother's Day Gift at the shop, but he wasn't sure if I'd like it. He reassured me that he'd received a gift receipt, so I could return it, but also it would be okay if I passed it off to him, instead. Clearly YMT had no personal agenda whatsoever when he presented me with Mini Weapons of Mass Destruction 2 on Mother's Day.
As if to confirm that he had no personal agenda related to the book, he decided to go one step further and build a mini-weapon just for me. You know, because every mother wants an Assassin Blade that doubles as a bracelet on her special day.
Then the Older Maker Teen got in on the action and made me three gifts from the book. That was quite a gift as he rarely makes anything these days. I'm glad to see my well-stocked (if messy) basement makerspace is paying off.
That said, most of the mini WMDs are made with basic household items (tape, paperclips, balloons) and cast-offs (mint tins, tooth floss containers, old zero-balance gift cards*). And the construction can be done on a desk or tabletop, no workbench required.
With the exception of locating the hot glue gun, my boys assembled these without any help from me. Then again, they are teens, not toddlers. Tweens might require supervision or assistance. The book does a good job of laying out and illustrating the instructions. At least I think it does. I haven't had much time alone with my gift.
Here's a closer look at my presents. Handmade gifts are always a treat and let's be honest, baking or soap-making just aren't their things.
.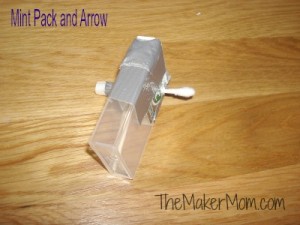 YMT wanted to wear the completely nonlethal "assassin blade" to school today, but I insisted it was a ticket to a three-day suspension in this paranoid climate. He relented after I refused to take him up on his bet over whether he'd get suspended or merely reprimanded. Neither of us considered the third option. Like the Florida girl who did the schoolyard science experiment, perhaps he'd wind up with a felony charge and be marked for life. Sheesh.
At any rate, this book, number two in a series of three, would make a great gift for Mother's Day an adventurous tween or teen. Check out more mini WMD and instructions on Facebook.

*What? You don't save these things?