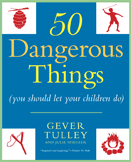 Plan an exciting summer with Tinkering School founder Gever Tulley as your guide. My review of his book, 50 Dangerous Things (You Should Let Your Children Do)
 (affiliate link) was originally published exactly two years ago on my personal blog. It's full of ideas for real-life adventure and potential danger, both things that are often absent in the lives of tech-savvy kids. Stay tuned for an announcement about The Maker Mom's Summer of Science Fun or SYTYCM (So You Think You Can Make) series!
50 Dangerous Things
50 Dangerous Things is not so much of a The Dangerous Book for Boys
, (affiliate link), which was bit more how-to oriented, as it is a guide for all children who spend too much time indoors protected by their very careful parents. Or perhaps it's a guide for such parents.

That said, I can't say I'm a fan of letting my children do all 50 things.

I mean, whittle? Absolutely! I believe every child should have a knife by age ten. At Chez Moldy we created a "knife contract" when my boys first got theirs, spelling out how, when and where to use it…and still someone got cut, but what can you do?

Walk to school? Yes, once we're in the new house, though certain lazy children deem it too far to walk.

Throw rocks? They are boys, how can they not throw rocks?

Play with dry ice? We do this several times a year. It's awesome. (Hint: add dish soap to water put the dry ice in it. Very cool.)

Play in a hailstorm (with head protection)? I'll let them try it.

Cook something in the dishwasher? I'm game. (I have to schedule this for summer 2013!)

Supergluing fingers together? Ummmm.

Squash pennies on a railroad track? Kids did this often when I was growing up (not far from tracks); this scares me. But maybe that's a good thing. Maybe that's the point of this book. When we were kids we roamed around and did things we weren't supposed to, but we lived to tell about it. Gever Tulley, the author, believes that kids learn about safety when we expose them to risk. He's right. But I'm still nervous about pennies on the train tracks.

To be fair, the book is more than just a list. It provides guidelines on activity duration, difficulty and dangers, as well as tips for getting started and related skill builders. It's sure to provide the impetus for some different kinds of summer fun. I'm eager, if a bit nervous, to show this book to my boys (one of whom once stuck his finger down his throat in the name of curiosity -age 3- and stuck tweezers into a live electric socket -age 9!-, though neither of those activities is listed in the book).

BTW, the book was born of out this TED talk, which piqued my interest back in 2008. Give a listen.