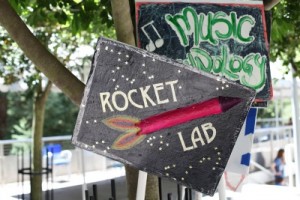 Many of my West Coast friends speak fondly of the Camp Galileo, so I invited one of those friends, Kimberly Kauer, who by the way now works for the camp, to share some thoughts about it. Like me, Kimberly is a renovation survivor. Click through to her blog if to see the lovely "after" photos.
We fell into Camp Galileo by luck. Years ago, my little four-year-old needed something to do before kindergarten started and friends convinced me to give it a try. It was safe and smart, they said, practically holding my hand.
This summer will be her seventh summer with Galileo Camps, now having moved into the more specialized Galileo Summer Quest. I enroll her and her younger brother in extended care because they hate to leave camp. When I show up at 5:59 p.m., with only one minute left in extended care, my kids beg me away, asking why I am taking them away so early. After nine hours each day, they haven't had enough.
The Galileo Camps' curriculum is designed to be fun and challenging, and because it feels very little like a traditional classroom experience, kids may not know that they are learning new skills and real science. The emphasis is on a well-conceived Innovator's Mindset. When given a challenge or a project, campers are encouraged to identify goals, imagine new ideas and solutions, design, built, seek feedback, be reflective, make adjustments, and then share their creations. Failure is considered a natural part of the learning experience. It's not an embarrassment, but a time to gain new data and make adjustments. The Innovator's Mindset, and the positive take on failure are skills that last a lifetime.
Last summer, my daughter learned intro to video game design, cartooning, and how to cook desserts, and 30-minute meals. This summer, she'll be back at video game design, but this time taking an advanced course. Other weeks will focus on website design, baking decedent desserts, and the inventor's workshop, where campers are tasked with finding creative solutions to various challenges relying on physics and other scientific concepts.
My son is in the younger program, Camp Galileo, and his weeks will focus on medieval adventure, African safari, amusement park design, and a space odyssey. The campers mix their days with a little science, and little art, and outdoor time, all relating to the week's theme. Everything is hands-on, and this year campers will learn things like circuitry and crest design.
There are the clear things on paper that make Galileo Camps unique – for instance, they spend over $400,000 on curriculum development annually – but the quality of staff is what makes them shine. Much of the staff works in education year round. For example, my daughter's video game instructor teaches the same stuff at a local community college during the school year. Most importantly, they all have a great enthusiasm for the kids, and they support them endlessly. My daughter is gifted, and she can be a wee bit nerdy. Not only is she challenged at camp, she is made to feel so good about herself. Her confidence soars as a result of camp. My son is smart, but he's also the class clown. The camp leaders ham it up with him, always offering high fives and jokes. He walks on air with all of the attention he receives from them.
Galileo Camps are offered at 36 locations around the San Francisco Bay Area, including The Tech Museum and Chabot Space & Science Center, for kids ages pre-k through eighth grade. Camp prices begin at $349 per week.  Locals can find them at the Bay Area Maker Faire, too. 

Personal disclosure: A few years after falling in love with Galileo Camps, I started to work for them. The same energy and dedication my kids see at camp, I see at work. 

Like The Maker Mom on Facebook. Subscribe to our monthly newsletter. Follow us on Pinterest and YouTube. Join The Maker Mom Community on Google+.