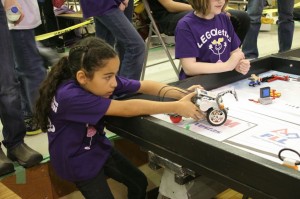 LEGOlettes in action.
It's National Robotics Week and we're celebrating tonight on Twitter with a #STEMchat on the topic. Join in at 8 PM Central! It was great bringing my VEX Robotics Team, The Makers, on WGN this morning. Even better, I got to bring my friend Karen Smith and her FIRST LEGO League, The LEGOlettes.  We're both first time robo-coaches. You can be one, too.
Karen has a stronger technology background that I do, but we both jumped in not quite sure what to expect. If you've got curious kids, an internet connection and a support adult (or high school student) in the wings, you can run a program.
We also started are programs thanks to generous grants that minimized start-up costs. I know there are VEX grants still available for new teams (not to add on existing ones).
Here's what Karen says about her team:
The LEGOlettes team competed in the 2012 FIRST LEGO League competition in December. The team is comprised of 7 girls, all in fourth graders at Da Vinci Academy in Elgin, IL and Girl Scouts. The Girl Scouts received a grant to support interested teams, courtesy of Motorola Solutions Foundation.
The team had to research a topic (solutions for Senior Citizens,) create an innovative solution, design a presentation to explain their solution, as well as build a robot to complete missions on a LEGO-based obstacle course. All in three months. The work culminated in a regional competition. While the girls didn't win any major awards or beat the clock on the obstacle course, they learned a lot about technology and science, about being on a team, about putting forth hard work and effort to achieve something.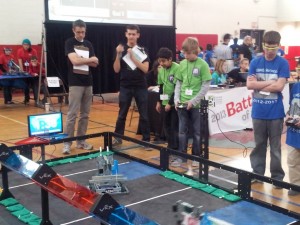 The Makers in competition mode.
As for The Makers, my middle school team was started with the help of a generous NASA grant through the Robot Education and Competition Foundation (REC). VEX is an international competition that provides student teams (middle school through college) hands-on work with robotics engineering along with "soft skills" like teamwork and problem-solving. Teams compete year-round at more than 350 events that culminate in April at the VEX Robotics Competition World Championship.
Each year the VEX competition is designed around a single challenge. The 2012-13 challenge is Sack Attack. In our first year, we crammed about 20 hours of meetings (Saturday and Sunday nights at my house) into just 6 weeks. The new challenge will be announced later this month and this time around we'll have months to plan.
We competed in two tournaments, the highlight of which was Battle of the Bots, a middle-school only competition in Oak Park. Our first competition, The Wildstang in Rolling Meadows,consisted mainly of high schoolers, made for an intimidating first run. As with Karen's team, we didn't come out on top, bur our final standings were respectable in both competitions. We also learned a lot and had fun, so I'm calling our first season a win even if we don't have a trophy to prove it.
Robotics competitions are fun and both leagues have support systems and in place to help new teams get up to speed. Because STEM (Science, Technology, Engineering, Math) is such a hot topic in education, there may be grants available to help you start a team for your school or youth group. Do it for the kids; I know you can.
Join in on Twitter tonight (follow the hashtag #STEMchat starting at 8:00 PM Central) to learn more about robotics programs and educational opportunities for youth and reach out to me if you have specific questions.
Like The Maker Mom on Facebook. Subscribe to our monthly newsletter. Follow us on Pinterest and YouTube. Join The Maker Mom Community on Google+.