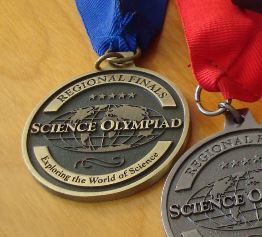 Today the Science Olympiad team is head down to Champaign for the Illinois Science Olympiad championships. It's a fun trip for all even though we'll be waking up at 5:30 Saturday to get ready for a long, important competition day. The mom who (I think) normally collects money and buys the head coaches gifts is one of the head coaches this year.
Me: I'm not sure who will organize the coach gifts this year. I think L usually does it.
Hubs: You don't need to step in and do it.
So guess who was buying the SO gifts this year? Not Hubs, that's for sure. Collecting the funds was simple, but then I needed to find a gift. Something like a Target gift card is the ultimate one-size-fits-all gift. Yet, it's so impersonal. I headed over to ThinkGeek where my boys found a lot of items for themselves, but we didn't find anything that screamed: Thanks, Coach!
Next stop: Etsy with a brief detour at Google.
I found the perfect shop for science and STEM gifts on Etsy, ShopGibberish.

ShopGibberish consists of a mother-daughter team that makes custom "chemistry creations" using symbols from the periodic table as noted above. They make personalized name signs, pillows, magnets, earrings, necklaces, teacher nameplates, and more.
Julie Huffman, the mother part of ShopGibberish's mother-daughter team, is a high school chemistry teacher. She's also this week's STEM Girl Friday.
I ordered each coach a "Co Ac H" magnet along with a pair of
earrings
in the spirit of this year's team theme. They'll be worn at least 4 times a year, right? (Invitational, regional, state, end of year party.) Thanks to generous parents, I had money left over for the less fun, but more practical, gift cards.
I didn't get any blogger discounts at the Etsy shop, but I was worried about getting my order in time without having to pay for rush shipping. Julie and her daughter, Janevieve, promptly made my pieces and got them right in the mail. Hooray! If you're looking for a cute gift for your favorite a science teacher, coach or geeky friend, check out ShopGibberish.