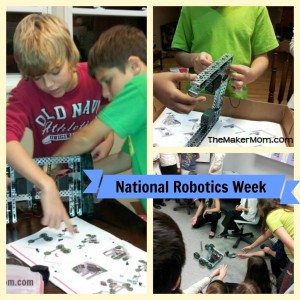 Keeping with our inconsistent schedule, the next #STEMchat will take place on April 11. In honor of National Robotics Week, we'll be talking about robots: what are they, how do you make them at home with kids, what does it take to start and coach a robotics team?

Learn. Share. Connect. Join the conversation on Thursday, April 11 at 9 PM Eastern.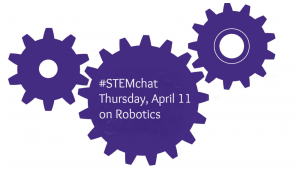 Once again, we've got a crack panel to lead the conversation:
Erin Kennedy, @RobotGrrl, started building robots at 13 with a Mindstorms kit and hasn't looked back. Read more about her at Robot Grrl and check out her cute, social Robo Brrds. She's also host to a weekly Robot Party on G+.
Kathy Ceceri, @KathyCeceri, wrote the book on robots-or at least one of them. She's the brains behind Crafts for Learning and is About.com's Guide to Homeschooling. She also co-created WIRED's GeekMom blog and book and is mom to two sons, 17 and 20.
Kelly Whalen @CentsibleLife, is a blogger, social media consultant and tech-loving mom of four kids, some of whom are active in the VEX robotics league.

Renee Becker, @LadyLogistics, has participated as a student, mentor and volunteer in the FIRST Robotics Program for the past 10 years and is now the FIRST Senior Mentor for Minnesota.

Me, @KimMoldofsky, an unlikely robotics team coach (also the VEX league, inspired by Kelly!). You can also follow me @STEMchat in case I land in Twitter jail.


Renee Becker @LadyLogistics FIRST Robotics League mentor and more.

Want a reminder? Sign up for The Maker Month's monthly newsletter. It will land in your inbox the day before #STEMchat.



Like The Maker Mom on Facebook. Subscribe to our monthly newsletter. Follow us on Pinterest and YouTube. Join The Maker Mom Community on Google+.