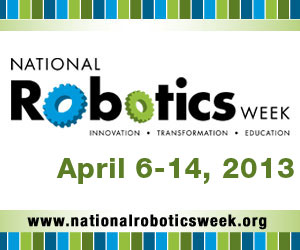 It's RoboWeek, National Robotics Week, here in the United States! STEM fans and pros are celebrating in a big way. With nearly 200 robotics events taking in 50 states and online, surely there's a way for you to learn more about the role of robots in our lives, how to get involved in robotics and how the US can be a leader in the field. (My tips: provide opportunities in school for hands-on creative exploration and ditch some of those standardized tests.)
I'll be sharing robot events and news all week long. My personal peak will be Thursday, April 11. That morning The Makers VEX Robotics Team and I are scheduled for an appearance on WGN Morning News around 7:40 AM. We're bringing along a friend that up until now has only lived in my computer. Karen Smith and the LEGOlettes, her all-girl FIRST LEGO League team,will appear with us sharing their experiences as new team.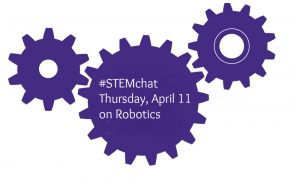 Do you have any special roboplans for this week?
Like The Maker Mom on Facebook. Subscribe to our monthly newsletter. Follow us on Pinterest and YouTube. Join The Maker Mom Community on Google+.