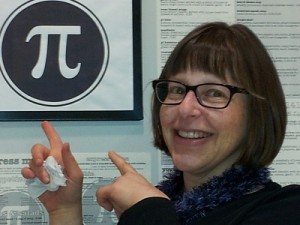 It's Pi Day. I'm not cooking up anything special at home this year, but I do have some great Pi Day links.
STEM Kids Chicago has a list of  Chicago-area Pi Day pizza and bakery specials.
The official Pi Day site has everything from shirts to Pi to pies.
The folks at Science Friday have plenty of Pi Day photos and videos for your viewing pleasure.
Reader Sarah Wells is showing off this year's honorary pie, but don't miss her math cake featuring the best fondant calculator I've ever seen.
How are you celebrating? I'm off to celebrate $3.14 pie slices at a local bakery with Cindy, Susan, Stacey and some (gasp) non-blogging friends.