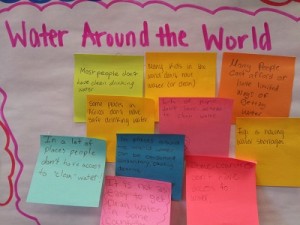 When I started #STEMchat, it was natural to stick with the basics like science and math. On Tuesday, March 19 at 9 PM EST we're going a bit beyond that by talking about STEM's role in managing Earth's most precious resource: water.
Years ago as I watched my boys frolic in the sprinkler on our front lawn it occurred to me that someday I'd be telling my grandchildren or great grandchildren about this and they'd meet my story with a sense of disbelief. Disbelief that we'd used water so carelessly in the olden days.
More recently, I grabbed up a book on display at the library, Written in Water: Messages of hope for Earth's Most Precious Resource (affiliate link) and I'm more aware than ever about the importance of understanding and trying to meet the water needs of the word population.
It's easy to take our water needs for granted in a country like the US, especially in an area like mine, just minutes away from Lake Michigan, part of the world's largest source of available freshwater. But we need to teach our children about this resource, how to conserve it and how to use science and technology to make the most of it.
World Water Day is March 22 and although our chat is not formally affiliated with that day, I hope everyone who participants in #STEMchat will gain ideas and resources that they're compelled to share at home, in school and in their communities.
Even with a topic that's a bit of stretch, I was able to assemble a top-notch panel thanks the the STEMchat Brain Trust (join!). Here they are:
Lieutenant Colonel Andrew N Liffring, @usace_fortworth, of the Fourth District Army Corps of Engineers. He has represented and served our country Iraq, Eqypt, Korea and around the United States. Read his full bio here
Sarah Hubbell, @MainlineMom, is a founder and Director of Technology for Entex Technologies Inc., a water quality solutions company, as well as a parenting and lifestyle blogger at WaterWaterEverywhere.net.
Becky Stewart @ramenbecky is an inherently curious science writer and editor. Her website is White Clay Editorial.
Just added: Madeline Goodwin @EcoScienceGirl a junior at Southern Oregon University majoring in Interdisciplinary Studies (Environmental Science & Biology).
And, of course, I'll be there, too. @Kim Moldofsky and @STEMchat if my personal account gets locked up for overtweeting.
See you next Tuesday night on Twitter!

Like The Maker Mom on Facebook. Subscribe to our monthly newsletter. Follow us on Pinterest and YouTube. Join The Maker Mom Community on Google+.