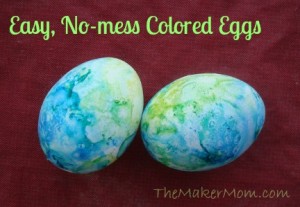 So you like to dye Easter eggs, but hate all the mess. Or maybe Easter isn't your holiday but making colored eggs is fun and you want an excuse to play around. I'm giving you permission now because this easy (almost) no-mess way to color eggs is fun and can be done with materials you likely already have on hand.
Make easy, no mess Easter Eggs
Here's what you need to get started:
eggs and a container to hold them
shaving cream (whipped cream might work, too)
food dye
a zip top bag or two



I demonstrate the process in this brief video.I used fresh, rather than hardboiled eggs, due to time constraints (some might say lack of planning) and I didn't want to cook the eggs used in the video, so I'll be back to show you how we made used of them before disposing them. Hint: Science Olympiad Rotor Egg Drop.

Like The Maker Mom on Facebook. Subscribe to our monthly newsletter. Follow us on Pinterest and YouTube. Join The Maker Mom Community on Google+.