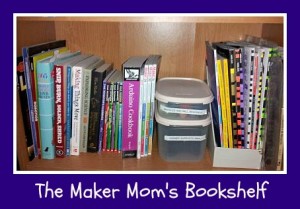 One of my personal STEM goals for the year is to learn to code, so I'm delighted to have review copies of two books that teach computer programming to kids and can help me reach my goal: Python for Kids: A Playful Introduction to Programming
 by Jason Briggs and Super Scratch Programming Adventure! Learn to Program by Making Cool Games
 (affiliate links) both titles from No Starch Press. Sadly, though, we're three months into the year and sadly, the only update I can offer is, "Holy crud! It's mid-March already?! How did that happen?"
I'm ambitious like that.
Still scarred from my high school comp sci, a class I thought I would love, but hated, (though I can't remember why) I figured these were probably just my speed. I do think that a good kid's guide is suitable for a timid or reluctant adult. My real stumbling block is not complexity, but time. If I'm going to reach my goal before June September December 31, 2013, I need to block out a dedicated period in which to practice and learn. Clearly, keeping the books near my desk, or even sitting on them (despite what some say about the location of my brains) is not doing the job.
Super Scratch Programming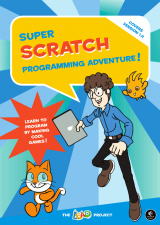 Let's start with Super Scratch Programming Adventure! Kids will love this because it looks like a bound comic book or graphic novel. It's bright, colorful, fun and they've made MIT professor and Scratch creator Mitch Resnick into a comic character; what's not to like?
Scratch is a free downloadable program developed by Mitch and his team at MIT and funded by the US National Science Foundation. Officially, Scratch is for kids 8 and up, but because the language is so visual, commands literally fit together like puzzle pieces, I know kids who have started on it earlier.
If have a younger child or one that is timid about approaching programming, this book would be a good guide for a parent and child to work through together. The colorful drag and drop interface will have you and child one creating games, stories and presentations in no time.
If your kids are like mine and seemed to innately know how to use Scratch the minute they see it on screen., they'll likely still pick up a few user tips as they work though the book.
This book was created by the Hong Kong Federation of Youth's Learning through Engineering, Art and Design Project in conjunction with the MIT Media Lab. It retails for $24.95.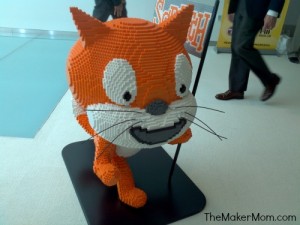 Scratchy in LEGO.
I'll follow up next week the a review of Python for Kids. In the meantime, here's something to think about.
Chances are they're not learning this in school.

Like The Maker Mom on Facebook. Subscribe to our monthly newsletter. Follow us on Pinterest and YouTube. Join The Maker Mom Community on Google+.