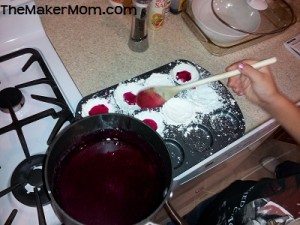 Food Science in action: a study of carageenan.
Dear State Senator Daniel Biss,
What a fun surprise to see you, my state senator, at the Regional Science Olympiad event! Do you realize how many middle and high schools from your district will be going down to the state competition? We rock. And no doubt several of those teams will earn spots in our state's top 10. I mean several teams in addition to New Trier and their feeder schools, because, well, New Trier.
You paused during your delightfully brief speech to thank the science teachers supporting the teams in the room, so I wanted to let you in on a secret. My son's team, though supported by the school, is coordinated by a recently retired (non-science) teacher and the school nurse. I believe they coach an event apiece, but each of the other 21 events is coached by parent volunteers.
I think of our team rather like the Bad News Bears (Original 1970s version, minus the alcohol and foul language). Each fall we seem like a ragtag bunch, our star students having moved on to high school and their parents/coaches moving on, as well. The head coaches matches parents/coaches with events only to find a few events unclaimed. After some amount of pleading, cajoling, (a bit more pleading) and a bit of "positive peer pressure" from veteran SO parents, every event has an assigned coach.
We scour books, libraries, the internet and our school's SO archives digging up information, notes and tests related to our event. We hit the aisles of American Science and Surplus, Michael's, Home Depot and, in my case, the grocery store, to buy supplies. We craft models, test powders, and bake cookies (I have the best event) to prep our teams for competitions.
I'd guess the average parent/coach spends 2-5 hours a week on their team and that doesn't include shuttling their child to afterschool and weekend practices.
So next time, thank the parents, too.
There was another pause during your talk. I can't recall what you said as much as my reaction to wanting to grab that moment of silence that came after it to shout, "Support a funded mandate for gifted education in Illinois!" I think it would have gotten a nice round of applause in that room.
As a confessed math nerd (MIT? Harvard? Niiiice!) who likely excelled in the topic from a young age, I'm curious to know if your parents were advised not to let you progress in the subject too fast lest you move "too far" ahead of your classmates. Were they advised that private school or home school would be a better choice for you to be challenged academically? I've had several of those conversations with educators and school administrators since my eldest started public school ten years ago.
I think No Child Left Behind does a serious disservice to our nation's best and brightest. I know, I know, that's a federal issue. But Illinois isn't doing anything to pick up the slack.
A few years ago I attended a State Board of Education budget hearing at which the moderator half-jokingly wondered aloud with a sigh which group of children would get left behind. Before turning to my prepared statement, I looked her in the eye and told her I was certain my children would get left behind. Again. She laughed nervously and I continued with my remarks.
At any rate, I was right.
Our system, one that provides funding for for special needs kids at the low end of the curve, but nothing for kids who are equally far from the norm at the leading edge of the curve is wrong. They're not just smart, they have unique social, emotional and educational needs.
Science Olympiad is the de facto gifted science program at my son's middle school. Never mind that the teachers don't play an active role, it works for him. Even better, he earns bling-y medals instead of grades, making it that much more fun than actual school.
Again, thanks for supporting Science Olympiad (and maybe someday mandated services for gifted students in Illinois?).
Best,
Kim

Like The Maker Mom on Facebook. Subscribe to our monthly newsletter. Follow us on Pinterest and YouTube. Join The Maker Mom Community on Google+.