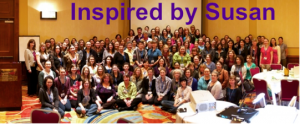 Photo via American Astronomical Society
Yes, I realize this is posting on a Wednesday, but life doesn't always align with a calendar. It's not so neat and tidy as we'd like it to be. One year ago my friend Susan Neibur passed away from Invasive Breast Cancer. We connected through blogging in 2007 shortly before her cancer was first diagnosed. Susan, a rocket scientist, was an inspiration to many. But the photo that accompanies this post is not from a blogging conference (surely the crowd was have been 2-3 times the size). It was taken at a Women's Networking Breakfast at the Lunar and Planetary Science Conference.
Susan knew the challenges of balancing a demanding STEM career and those of a family. She established the breakfast as a way of connecting with and supporting other women on the same path. She also founded the
Women in Planetary Sciences blog
. And even when illness threatened, she managed to forge ahead.
There were many times when I read her blog and she'd candidly discuss her illness, the treatments and the toll they were taking on her and her family. And then she'd offhandedly mention that she turned in a paper or was scheduled to present a poster at an upcoming conference.
I don't know how she did it. She fought long and hard. She kicked cancer's ass time and time again, but in the end, cancer won.
It's not fair
.
Please join bloggers throughout the web in honoring Susan Niebur's life and contributions with a post, and please add your link below.
Like The Maker Mom on Facebook. Subscribe to our monthly newsletter. Follow us on Pinterest and YouTube. Join The Maker Mom Community on Google+.