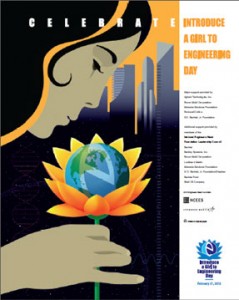 What does it take for girls to get involved in STEM? Research indicates that having mentors and role models makes a big difference. Seeing women in STEM careers sends a strong message that it is possible. Having a person to recommend programs and courses and support a girl through challenging times is key.
Knowing that someone believes in you and supports your journey is key. Don't we all want that even as adults? I look back at my own journey and sense that if I'd had just a bit of a push, more guidance or even a sounding board, I would have had a STEM career. So on this Friday, on the close of National Engineers Week, I want to post some of the encouraging words that people shared during the awesome Introduce a Girl to Engineering #STEMchat the other night. (The other ideas and linky stuff will get posted next week.)
Whether it's your daughter, niece or neighbor, think about how you can help a girl achieve her dreams. Remember, a little encouragement can go a long way.
Here's what you shared when asked what you would say to a girl who is interested in engineering:
If you ever have any idea of changing the world by creating what you can imagine, then engineering is the best job.
Best advice my father ever gave me, that still serves me well: You must believe you can do anything, because you can. (But also, mistakes are to be expected as part of design.)
I'd tell her that anything is possible in the world of engineering because there's so much she can do!
I'd encourage her to help younger girls learn.
For moms looking to help their girls in STEM and engineering, give them confidence in themselves. That is KEY!
Find an engineering club, afterschool program or camp. Ask parents/teachers/counselors about programs at your school or a local college.
I remind my daughter that Engineer is one career that never had "man" in the title!
Engineers can change the world, and are doing so every day.
I'd tell her I want to help her achieve her dreams.
Glad you are interested in a great career. It's rewarding to build things and make them work. It pays great, too!
I tell girls interested in Engineering to keep at it and don't let anyone tell them it's not for girls.
I'd remind her she has a lot of support from many people so take advantage of this and tackle engineering!
I'd say, be brave. Don't feel overwhelmed if only girl in classroom full of boys. Ignore and focus on passion.
Get involved early, work as an aide in an engineering firm in High School, do Math counts, Girl Scouts etc, get those scholarships!
Being a girl in a male-dominated field can be hard but we're all here to support you. Don't give up!
The U.S. needs MORE great minds to help solve problems so join us!
What would you say to a girl considering a career in engineering?

Like The Maker Mom on Facebook. Subscribe to our monthly newsletter. Follow us on Pinterest and YouTube. Join The Maker Mom Community on Google+.