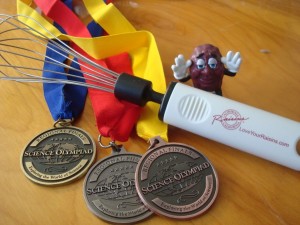 Last weekend my Food Science Team, along with most of the other event teams from my son's school, participated in a Science Olympiad Invitational. It was a small gathering, involving less than ten schools. Two of the top five teams in the state participated, so even though it felt casual, it was a challenge.
Our team approaches invitationals as an opportunity, a chance to get a feel for an SO competition and the flow of the day, to generally understand what the events are like, and also to gauge the level of competition.
Compared to a VEX tournament, the competition day moves slowly, and while there are some events that are interesting to watch, many take place behind closed doors. Students are escorted to a room and exit 40-50 minutes later, exhilarated or exhausted. That's competitive science for ya.
One frustrating element of Science Olympiad is that the tests vary, sometimes wildly, from one competition to another. This invite was most useful for Food Science in that the test was pretty demanding. Even the winning team got less than half the answers correct, so just finding the proper answers will be a good lesson for my team. But there's no clear stepping stone from one test to another because each test is made up by a different person, each with their own understanding of the rules.
Or sometimes lack thereof. Last year on the state competition, my team members were asked to perform a test that was specifically stated in the rules as something that would only be required at the national competition. In the end, the question was removed for scoring purposes, but it still threw my guys off at a time emotions were already running high.
And ours wasn't the only event during which the kids were taken by surprise. Indeed, that seems to be the coaches' lament. We try to do our best and we do this by following the set of expectations laid out in the event rules.
But anyway, as a veteran coach, I'm getting better at expecting the unexpected. So my surprise takeaway was not that our scrappy, mostly parent-coached team actually did pretty well at the competition, but that during the downtime, one of the other parents told me about a sushi joint in my neighborhood that's 20 – 30% less expensive than the one we typically frequent. Now that's a score!
Like The Maker Mom on Facebook. Subscribe to our monthly newsletter. Follow us on Pinterest and YouTube.