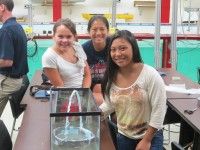 image courtesy US Naval Academy
Summer is months away, but given the questions landing in my inbox, I can tell that many of you are already thinking about summer programs for your kids. I'll share information about Chicago-are geek camps and summer STEM programs, and I welcome guest posts from readers in other areas of the country.
Fred from MochaDad pointed out this interesting Summer STEM Program at the United States Naval Academy in Annapolis, Maryland, one of US News and World Reports' top picks for undergraduate engineering programs.
The US Naval Academy STEM camps are offered for rising 8th -11th graders. The unusual (in my experience) application includes not only basic questions about academic background, but about physical ability (as in, tell us about what varsity sports you're in) as well. These are selective programs which aim to bring together a diverse group of participants from across the US.


According to their brochure, topics such as Energy and Light, Infrastructure, Transportation and Cybersecurity, Environmental Challenges, Flight and Fluids, Automation, Simulation and Modeling, Biometrics and Robotics will be covered in ways that allows for hands-on participation.
Parents must cover the cost of transportation to BWI or the Naval Academy in addition to the $200 cost for the program, which covers meals, housing and materials.
The US Naval Academy sounds like a great program for motivated students STEM-loving students.  Applications are due by April 15.
Like The Maker Mom on Facebook. Subscribe to our monthly newsletter. Follow us on Pinterest and YouTube.