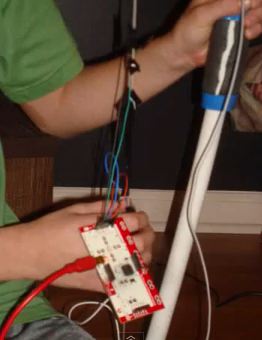 A bored, whining child is never fun to deal with. And when said child lives in a house filled with toys, books, games and craft supplies, he can be especially annoying. But instead of turning on the nearest screen and calming him with a digital pacifier, steel yourself, cover your ears and give him a bit of time. Like the calm before the storm, boredom is often the precursor to creative exploration. You just need to be patient.
As The Maker Tween wandered aimlessly through the house on Sunday with nothing to do, I reminded him about many things he could be doing, including cleaning his room, but he moped and wandered about and complaining of boredom. Eventually he headed down to the basement makerspace and came up with the MaKey MaKey (affiliate link).
The MaKey Makey turns almost anything into a keyboard or joystick. I wrote about it in my 2012 STEM holiday round-up (it's the last item in the post) and I showed it off on TV, using marshmallows to play a keyboard on my computer.
MaKey MaKey and Minecraft
He rigged the MaKey MaKey up to a bow and used that to shoot cows on Minecraft, as you can see below. It took time and thought and in the end, he felt that he'd accomplished something. Also, he had an excuse to play Minecraft, so much for keeping digital pacifiers at bay.
Suggesting to the bored child that he sort through his books, toys and games to find items to donate to a less fortunate child will also move him to action. Either he'll do as you say or start playing with something, both good options.

The MaKey Makey was provided by Sparkfun for use on my TV segment and beyond.