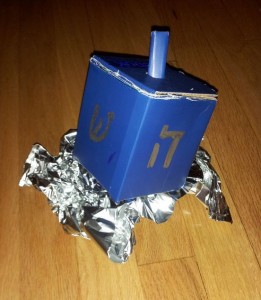 DIY dreidel from an upcycled shoe box and MakeDo
Sure, it seems early to be talking about Hanukkah 2013 when it's only January, but the Jewish holidays are coming early this year. As in, Rosh Hashanah, the new year, takes place right after Labor Day weekend and Chanukah starts on the Wednesday night before Thanksgiving.
The Jewish holidays, like Muslim ones, are based on a lunar calendar that doesn't always jive with our Gregorian one. In addition, the lunar calendar year is about 11 days shorter than the solar, Gregorian, one, so every few years, the Jewish calendar throws in a leap month to make up for it. It's hard to keep track.
At any rate, Jonathan Mizrachi was curious to know how often the Thanksgiving/Chanukah overlap occurred, so he did the math. Apparently, this is beyond a once in a lifetime occurrence. According to his crunching of the numbers, this overlap could have happened in 1861, but Thanksgiving was not yet a holiday. Furthermore, the next time it will occur is…the year 79,811?!
Clearly we have to do it up right this year and celebrate like it's, what?, 79,811? I'm going to start my wish list soon.
Edited 1/17/13 to add the following.
Okay, I figured someone out there would put examine the math with a bit more scrutiny than I did and sure enough, a certain Stephen P. Morse wrote me yesterday addressing a few of Jonathan's points. He gave me permission to post the corrections here.
Stephen had also analyzed the Thanksgiving/Chanukah overlap with slightly different conclusions.
Unfortunately Jonathan's math does not add up. I agree with him that
the two holidays coincided in 1861, and that was before Lincoln
established the date of Thanksgiving. But it occurred again in 1888.
He seems to have lost that date.

His conclusion that it will eventually occur again after the Jewish
calendar cycles through the seasons. But the year he is reporting is
wrong. He claims it will next occur in 79,811. But in reality it will
occur in 77,094. So we won't have to wait quite as long as he said.
Okay, the conclusion differs, but this overlap still won't happen again in my lifetime.
It turns out Steve, who has a PhD in electrical engineering, has had an interest in matching up the Jewish calendar with the Gregorian calendar since he was a teen, many decades ago. In addition to calendar conversions, his site has quite a bit of information for budding genealogists, too. Interesting stuff.
Hat tip to Rebecca Levey and Stephanie Schwab, who first shared this with me.
Like The Maker Mom on Facebook. Subscribe to our monthly newsletter. Follow us on Pinterest and YouTube.