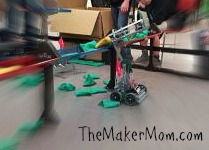 Our bot scores a bonus sack during practice.
My newbie VEX robotics team, The Makers, worked and reworked and tweaked (a bit more than they should have, IMO) to come up with a robot that would do a good job in this year's Sack Attack challenge. And they did it. In just six weeks. That said, I reinforced the fact this was was our year to learn, not to win. Still, we were all pretty proud of their bot.
And then we walked in our first tournament.
Our First VEX Robotics Competition
Decades ago I heard a story about a set of sisters from Chicago's inner city. They were the academic pride of their high school, set to head off to college and be role models for their peers. Only it turned out that while the girls were superstars at their school, their academic skills were really on par with those of a typical middle schooler.
When we saw the other robots in the competition, I felt like one of those girls.
When I saw the scissor lifts, the pneumatic lifts, plexiglass-like shovels and complex machines that we never even imagined, I thought, "This is going to be embarrassing." Sure, we'd seen some of these bots on YouTube, but still, yikes. The boys were similarly demoralized.
"Remember, we're here to learn. Many of the teams here have been doing this for years and have a lot of experience as well as a large stock of material from which to build their robots," I reminded the boys.
"We know, Mom," The eye-rolling Maker Tween responded with his jaw clenched.
Then we went to get our robot inspected and I had missed a key point related to hooking up a 9-volt back-up battery to the bot. It's a clear, concisely written rule that I had turned into something else in my mind and therefore glossed over. We couldn't pass inspection (i.e., participate in the competition) without it.
Blerg.
It's one thing if the team goofed up, but if I made a mistake that ruined their competition, I'd feel horrible. Guilty. Inadequate.
We didn't have a battery or the necessary connector and where was I going to buy one at 8:00 on a Saturday morning?  Luckily, Robert, a nearby young man from team 1200C overheard this and offered up a part from his team's spares. There were, I think, five or more teams from his school. Those kids have this VEX thing down. Humbly and gratefully, I accepted his offer.
Our knight in shining (Mountain Dew can) armor.
Face blurred by PicMonkey.
Just because dozens of hours went in to constructing a robot doesn't mean it will perform as expected. The boys put in 3-4 hours a week for about 6 weeks and clearly some of the teams with more complex machines likely at least doubled this, but most teams experienced glitches at some point during the competition. On the bright side, that's why The Makers won their first qualifying match. A win, even though it was a bit of a fluke, brightened their spirits and gave them the push they needed to move ahead in strength.


I won't bore you with a play-by-play review of the matches, but I'll share a few things we learned about Vex.
The competition mats were different than the rubber gym mat on which we practiced. We need to consider buying some for next year.
The basic kit that came with our grant promised we'd have a serviceable robot, not a great one. It lived up to those expectations.
My boys could coach each other. Eventually, they borrowed took my "coach" badge so that they could support each other in the arena during the matches while I watched from the audience.
Even the best driver on the team won't do well if the robot breaks down or hits a roadblock. I'm glad my boys took turns driving during qualifying rounds. Admittedly, the rotating driver might have been a tougher decision to make if we were truly in it to win it.
It's okay to sit out the autonomous period; several other teams did.
The folks from the more experienced teams are happy to help when asked, and sometimes even before.
Competition day is long, especially if you stay through to the finals.
The most exciting competitions of the day take place at finals.
The boys are eager to compete again next year. Now we're in Science Olympiad season and VEX will have to take a back seat, though maybe we'll head out to Batavia as observers. I talked to them about adding to the team, but I'm not sure what will happen. I have to say as a group, their personalities meshed very well- there was no conflict, there was no whining or drama and I'm inclined to keep it this way.
When I asked about adding a girl or two, well, the boys just got goofy. Ugh, middle school boys. Now I'm the one rolling my eyes.
We had a great time and are thankful for the grant that got us started as well as the folks who put in time and effort to host the WildStang Tournament.
There are still four grants left for schools and organizations in Illinois to start a VEX team at almost no cost. I think it cost less than $100 including our homemade t-shirts. If I can do it, so you can you. What are you waiting for?