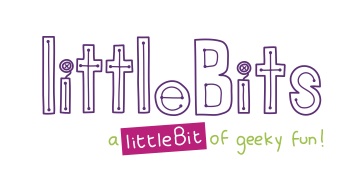 Thanks again to our sponsor, littleBits.
Thanks to our littleBits, our creative panelists and equally talented participants, I present you with a summary of the December 2012 #STEMchat.
What gifts are you making for the holidays?
Dalek potholders
Homemade beer bread. Or make up the mix and give with a six-pack of beer.
Neighbor gift idea: cookie-decorating kit.
Play dough.
Crayons, and decorate a plain notebook to give with it. You can find great silicone ice cube molds for different shapes at IKEA or the dollar store.
Ornaments, plus homemade soap, baking, & also give honey from DH's bees.
Travel watercolor kit. Super easy.
Framed sun prints are a great gift idea.
What are your favorite gifts to give from the kitchen?
Unique edible gift ideas from @westoftheloop.
Fun breads in the mini bread pans (like lemon bread, banana).
Herbed vinegars, butters, and oils are beautiful and precious homemade gifts as well.
@AngEngland has a new book: Backyard Garden.
Bitters are unusual & easy.
Homemade fudge sauce.
I give 'the gift of time' by wrapping a family menu of homemade choices; then deliver the meal selected.
Homemade vanilla (throw vanilla been pods in vodka or bourbon. Wait 2- 4 weeks. Strain. The trick is concentration; one vanilla bean will flavor only 8 ounces or so of vodka), homemade Kahlua and candy cane cordials.
Framed sun prints are a cool gift idea.
Where do you get supplies?
Sculpey figurines my tween made for his teacher.
Craft stores, office supply stores, big box stores, thrift, resale, and surplus stores, recycle bin. See if you have a re-use store near you.
Let family/friends/neighbors know that you would love to have any supplies they'd like to get rid of. One mom sent out a letter to her neighbors asking for extra fabric scraps and craft supplies they wanted to clear out. She left a bin on her doorstep so they could drop it off.
Join a Freecycle group.
Ask at farms/businesses that might have "scraps" (like wood/pallets/etc.) that you can use!
Other links and tutorials:
For eco, recycled, and maker projects, check out ScrapKins.
The Kitchen Pantry Scientist outlines an easy and inexpensive DIY Science Kit.
Learn to solder with the Simon Says Kit from SparkFun.
Artchoo has a comprehensive list of art supplies for kids.
Salt dough ornaments-a great project for little or big kids.
DIY Gift Tag Ornaments tutorial.
5 Fun educational gifts to donate to holiday toy drives.
STEMchat sponsor, littleBits: a Skater project from the Holiday Kit, a flickering lantern from the Starter Kit, and a complex (but amazing) run horse run project. The littleBits staff and community share loads of fun projects on their site. Homeschoolers should know that littleBits provides a 15% educational discount to homeschoolers! Register for an account to get started.
See you in the new year on Tuesday, January 8, 2013 for our first #STEMchat of the year. Join us as we talk #STEM resolutions and learning goals for the year.
Like The Maker Mom on Facebook. Subscribe to our monthly newsletter. Follow us on Pinterest and YouTube.