This month's #STEMchat is leaning toward our Maker roots and is more STEAM than normal, that is, STEM plus Arts. Thanks to this month's sponsor, littleBits, we'll be talking about #MakeTheHoliday- sharing tips and ideas for homemade gifts and gifts that keep on giving. Join in on Twitter on this Thursday, December 6 at 9 PM Eastern, 8 Central, 7 Mountain and 6 Pacific using the hashtags #STEMchat and #MakeTheHoliday.
In my house, the purchased gifts that keep on giving are the ones that lead to open-ended, creative exploration. They are also the most Maker and STEM-friendly toys and books. Coincidence? I think not.
December's rock star panel includes:
Kathy Cerceri @KathyCeceri is the brains behind Crafts for Learning and is co-creator of the GeekMom blog and book, author of "Robotics" and other activity books for kids, About.com's Guide to Homeschooling, and mom to two sons, 17 and 20.
Lisa Nelsen-Woods @condoblues When her technical writer, instructional designer, and DIYer powers combine she builds computers, fixes what's broken, and teaches you how you can do it too on her blog Condo Blues.
Thien-Kim Lam @ThienKim is a former costume designer who now channels her creative energy by upcycling clothes, sketching, and crafting with her kids. Check out her tutorials and general crafty goodness at My Cup of Creativi-Tea.
Rachel Tayse @RachelTayse is a hungry unschooling mom, author of Hounds In The Kitchen, who likes to know life from the ground up, doing everything from hunting, growing a particular variety of cucumbers to make pickled cornichons, and making salt from sea water when travelling.
Angela England @AngEngland is the Founder of UntrainedHousewife.com and author of the newly published Backyard Farming on an Acre (More or Less).
Brandie Langer @Brandie185 is a homeschooling mom of three. When not busy teaching them (or cleaning, blogging, driving, or doing laundry) you're likely to find her knitting away.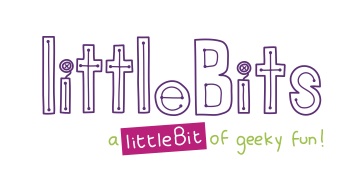 littleBits, invented by a woman, are (cute!) little electronic modules for prototyping and play. The bits snap together with magnets, so you can't mess up with them. These colorful bits take crafting projects to a new level allowing people with little or no electronics knowledge to add lights, sensors or other bells and whistles to their projects. Ayah Bdeir set out to put the tools of engineers into the hands of artists and she's succeeding. Seriously cool stuff, people.
littleBits is hosting a creative holiday challenge. It's kind of like Design Squad for adults- dream up a creative project incorporating littleBits, sketch it out and submit the sketch to win. How easy is that?
In addition to winning bits through the holiday challenge, you can win here. I'll be hosting a giveaway on this blog for a littleBits Holiday Kit., a seven bit kit designed to light up your life, during the #MakeTheHoliday #STEMchat,
Just how easy is it to use these? I made this fun robot-like device inspired by Kathy's "Robotics" book and my the set of littleBits that was provided for my TV segment on STEM gifts.
I look forward to hearing about your DIY gifting triumphs and tribulations Thursday night!
Like The Maker Mom on Facebook. Subscribe to our monthly newsletter. Follow us on Pinterest and YouTube.