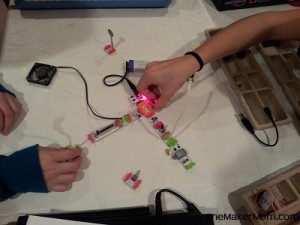 I was delighted to include littleBits in my STEM gift round-up for kids on WGN Morning News yesterday. Part of the fun was incorporating the small electronic modules into some of the other items I was showing off. For example, knowing my display already had a lot of moving parts and pieces, I used the littleBits vibrating motor from the starter kit for my Art Bot instead of bringing wires and batteries.
It was so easy, I created a quick video recap at home. Note that this project was inspired by Kathy Cerceri's book, Robotics.

At the risk of sounding girly, littleBits are the cutest electronics components I've ever seen. The splashes of color used to code the components, or bits, make them zippy, fun and inviting, especially for girls. And because they connect with tiny magnets, it's impossible to connect them improperly.
Which is not to say that they can't be assembled in a the "wrong" order, but the kids I showed the kit to learned pretty quickly through play (experimentation) that input, the pink bits, needed to precede output, or green bits, in order to do their job.
So maybe this is what happens when a woman is behind a product like this. Shout out to Ayah Bdeir!
Even the packing is attractive. Not only can the littleBits box sit right on my increasingly crowded makerspace shelves, but each bit rests neatly inside the box in its own little nest. I <3. Are you listening, Arduino?
Seriously, whether trying to organize a workshop or simply fit in with the rest of a child's toys and art supplies, the littleBits packaging is a plus.
LittleBits are good for general exploration and play, but they can also be incorporated in arts and crafts projects to add a bit of sparkle. For all the buzz created by Roominate as the great new electronics project for girls, especially among my friends with daughters (I liked it enough, but am part of the MOB, Moms Of Boys), I'd say get your girls a few bits and a couple of shoe boxes or scrap wood and go to town. Or build one.
I'm looking forward to playing around with these even more.
The Starter Kit is $89, the Extended Kit shown in the segment sells for $149. Bits are also sold individually to suit your creative and budgetary needs.
Like The Maker Mom on Facebook. Subscribe to our monthly newsletter. Follow us on Pinterest and YouTube.
Disclosure: littleBits provided me with a starter kit and an extender kit for review. All opinions are my own.