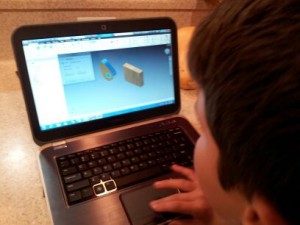 In September I wrote about the sleek Dell Inspiron the Maker Tween received as part of the Dell Ambassador Program. My hope was that the Inspiron would be his homework computer as opposed to a gaming outlet, but that hope was dashed after just a few weeks.
Sigh.
But now that were in robotics mode, the computer has an important use somewhere between homework and gaming.
We received a student copy of Autodesk Inventor as part of our Vex Robotics team kit. The design software can be used to help build our robot. For now, though, we're sticking with the generic robot plans for a basic clawbot. However, the more the boys on team learn and understand, the more they want to push the limits. For now, my tween has simply been exploring the software capabilities creating 3D models for all sorts of interesting items. (If only we had a 3D printer.)
Each round of a Vex tournament starts of with 15 seconds of autonomous movement on behalf of the robots.We'll also be downloading RobotC so the boys can program the their robot in a virtual environment. Hopefully it will translate properly to the real world and they'll score a few extra points during their competition.
Thanks to Dell, the Inspiron is now the official team computer. I'm sure glad I don't have to share mine.
Now I just have to figure out which version of RobotC to install…
Like The Maker Mom on Facebook. Subscribe to our monthly newsletter. Follow us on Pinterest and YouTube.
I received Dell Technology and compensation for my role in the ambassador program. All opinions are my own.