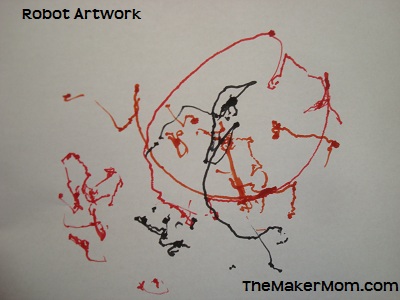 I was chided by one of the Maker Kids for not doing much making, so I'm trying to walk away from the computer now and then to explore my stated blog topic. I made robots! Well, actually robot-like devices, vibrobots and bristlebots.
After catching a YouTube segment from the World Maker Faire in NYC featuring writer and Geek Mom Kathy Ceceri, I headed to the library to pick up her book, Robotics.
During her Maker Faire talk, Kathy mentioned that her approach was fairly low-tech and that most of the projects in her book could be accomplished with several household objects and just a few electronic ones. Written for kids, I knew it would be accessible to a noob like me.
It was.
And yet I didn't fully follow her directions exactly on my first project. Why make it easy on myself? Still, Kathy's book did inspire me to make a vibrabot.
The only electronics required for a vibrobot are a battery, a small motor and two small pieces of wire to connect the motor to the battery.
First, you choose some kind of platform, Kathy recommends a overturned plastic cup, I upcycled a foam tray from the grocery store. When you tape the battery and motor atop the platform and connect them, the platform will get a bit of a buzz. Adding a cork atop the motor makes for a less balanced, more fun jiggle.
To make the project a bit more exciting, Kathy and I attached legs, consisting of colored markers to our platforms. (I was also channeling a project I remembered seeing on Radio Shack's Great Create.)
Et voila!
You can see how it turned out. After I excitedly posted the picture of My First Robot (-like device) on The Maker Mom's Facebook page my inner critic chimed in. "I can't believe you posted that! Look at it; admit it, it's pretty lame."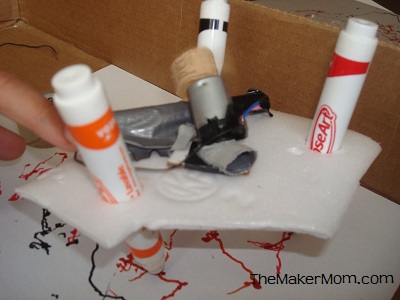 I will admit my inner voice was right, it is rather pitiful looking. But you know what? I'm new at this. I don't have to apologize for my first try. (Thank goodness my friends are posting pictures of their fabulous vibrabots. But I think that's be a different sort of meme, anyway.)
A couple of weeks after the vibrabot attempt, we picked up a kit for a Bristlebot, which is kind of like a DIY hexbug. As you can see in the video, it's fun, simple, and thanks to the googly eyes, really cute.
Kathy's book is a great help to get you and your maker kids started on basic robotics. I have about 19 Robotics projects left to explore with my tween, but with the Geek Mom book on its way to me, I suspect my to-make list is going to get a lot longer.

Tell me, what have you made lately?
Like The Maker Mom on Facebook. Follow us on Pinterest and YouTube.