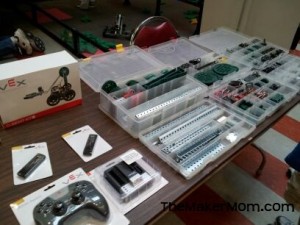 We had a good time at OSMOCES yesterday. We came, we saw, we soldered and I walked away with a cool LED blinkie and only a small third-degree burn. Yeah. One of the exciting aspects of my day was meeting Marc Couture of the Robotics Education and Competition Foundation. He's a VEX evangelist and his organization has grants to help up to 10 groups start a VEX team for free. Free meaning the grant covers the team's $75 registration fee and provides a competition robot "starter kit" valued at around $1,000.
Of course, there's some fine print.
The clubs must be in Illinois, Wisconsin or Minnesota (updated 10/16; sorry for any misunderstanding this caused. Our region consists of these states, but the grant is only for IL.) and must be made up of middle or high school-aged kids. The team can be sponsored by a school, community or civic organization, library, or simply be a neighborhood or home school group.
Shipping for the starter kit is not covered and will cost roughly $50.
The club must participate in at least one sanctioned VEX event in the next year (not sure of exact deadline).
The club must pay their own registration fee for the required event and any other events (figure $50-75 for a local contest).
The grant is designed to encourage ongoing participation in the VEX league. Therefore, the starter kit is not a gift, but rather a long-term loan that will remain with the group as long as they are active in the league.
Teams should expect to budget $500 or more in their second year of competition for league fees, contest fees, and equipment (i.e., damaged parts and new pieces to add to the mix). Travel to state, national, or international tournaments will add to the overall costs, of course.
Click to contact Marc or your regional coordinator to learn more or find out if similar grants are available in your state or province.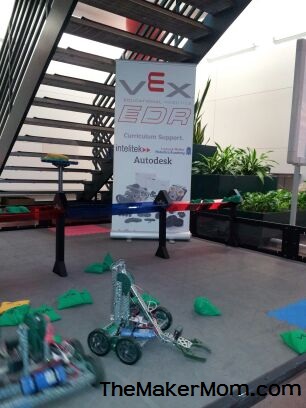 Sack Attack is the 2012-2013 Challenge
The Maker Tween had a blast trying his hand at Sack Attack. Science Olympiad season is kicking off, so don't tell my husband, but you might by reading the blog of one of the new grant recipients. Or maybe by the time I decide, the grant opportunity will be a thing of the past. This is a great deal, so if you've ever thought about getting a robotics team together, now is the time to do it!
BTW, the LED Blinkies were provided by MuseCon and 2DKits.
Like The Maker Mom on Facebook. Subscribe to our monthly newsletter. Follow us on Pinterest and YouTube.