Tank image via Kimberley Clayton Blaine
of TheGoToMom.TV
You child might not be happy if you gave him a shoe box as a birthday present, but if box suddenly appears and scissors and tape are handy, chances are he'll have a lot of fun making something great. The Chicago Children's Museum captures the creative spirit of cardboard in their new exhibit, Unboxed: Adventures in cardboard.
I told my peeps at CCM that a fabulous group of tween makers produced a whole lot of awesome to share at the Morton Grove Farmer's Market in honor this weekend's Global Cardboard Challenge and asked if they'd provide a family pass* to CCM and Unboxed for us to award to one lucky visitor.
They said yes!
So come see us at the market from 9 – noon this Saturday! It takes places at 6210 W Dempster in Morton Grove, just a hop, skip and a jump west of the Edens Expressway.
Play the games my helpers dreamed up**, create your own cardboard game, toy, or piece of art, and enter to win a family pass to the Chicago Children's Museum!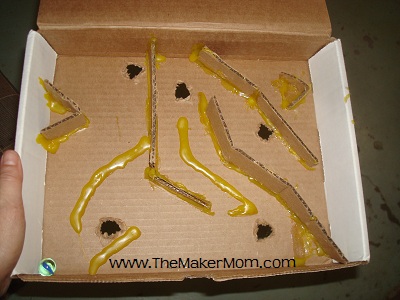 Marble Maze via The Maker Teen
*Family pass is valid for up to four people.
**All activities are weather permitting.
Like The Maker Mom on Facebook. Subscribe to our monthly newsletter. Follow us on Pinterest and YouTube.