STEMchat just keeps getting better! I'm thrilled that Thursday night's chat (9 PM Eastern, 8 Central, 6 Pacific) has a rock-star panel that includes parents @JeanneBernish– a "math-not" with a son who plans to major in math in college next fall and @MissLori– who puts on a brave face so her kids don't fear math.
The panel will also feature teacher and online education resource extraordinaire @TeachMama and Kelly Kutach, a Texas Instruments mathematician who will be sharing as @TICalculators during our chat.
Having a sponsor makes the chat more sustainable and allows me to provide extra goodies to you, as you'll see below. Having a sponsor will not affect the goal of #STEMchat, which is to bring parents, teachers and STEM educators together to share ideas and resources.
Now about those goodies: Texas Instruments is providing The Maker Mom with two TI-Nspire™ CX graphing/scientific handheld units to give away. One will be given to someone who RSVPs below and attends #STEMchat and the other will be awarded to a chat participant shortly after the chat is over.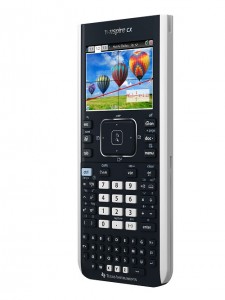 TI-Nspire™ CX Handheld
TI-Nspire™ CX technology grows with your student. Free software updates enable the unit to last from middle school through college. Another bonus: the TI-Nspire CX handhelds are allowed where tablets and mobile devices are not. The TI-Nspire CX handhelds are permitted for use on tests such as ACT, SAT, AP, IB, PSAT/NMSQT.
Its full-color screen allows users to color code objects and equations and it also permits users to incorporate images and photos. The software included with the calculator means that students can work on their desktops (PC or Mac) in an environment that is very similar to their handheld unit.
Enter to win:
RSVP to #STEMchat using the linky below and participate in the chat.
Entries will not be taken in the comment section! The linky will ask for contest info- just put in a name (just your first name or pseudonym is fine as this will show publicly), blog url (just leave it blank if you don't have one) and your name and email address (these last two will NOT show publicly) so I can contact you if you win.

This contest is open to residents of the US and Canada. Must be 18 to enter. RSVP entries will be accepted until a few minutes before #STEMchat begins. Retail value of prize is approximately $150 US dollars. Winner will be chosen at random. TI or its agency will provide prize fulfillment.
Still feeling lucky? Enter TI's contest to have Emmy-nominated Bing Bang Theory actress and neuroscientist Mayim Bialik teach an integrated math/science lesson at your child's school. She'll also bring with a whole bunch of TI product goodness for the school or students to keep.
For good karma and to keep up with the latest in TI's educational technology:
Tweet you on the 20th!

Like The Maker Mom on Facebook. Subscribe to our monthly newsletter. Follow us on Pinterest and YouTube.