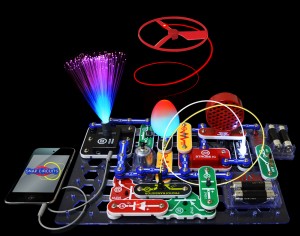 courtesy of Snap Circuit
When the Elenco Snap Circuits Light Set

(affiliate link added 8/14) unexpectedly arrived on my doorstep the other day, I mistakenly told my Facebok fans that it was a glow-in-the dark of Snap Circuits. I was wrong; it's even more exciting.
With my own kids at sleepaway camp, I was grateful when a friend popped over with her 3rd grade son and 5th grade daughter- just the people I needed to help dive into the kit.
They went nuts for it and I mean this is the best possible way. I told them we were going to do some experiments and asked them if they were good at following Lego instructions.
They said yes, so I explained that, as with Lego, we'd be following a diagram, only we would be doing an experiment with light and electricity.

Will it be dangerous? the boy asked hopefully.
I told him that if we were careful, no one would get hurt and nothing would get broken.
He was disappointed.
But then we got busy. Both of the kids were eager to find and place the snap-in parts on the circuit board. We started with experiment 1, the simplest of all, lighting up a small, color-changing LED. Then they swapped in different lights from the kit, and then we placed on of the kit's three special fixtures over the tiny LED. Behold:
Fun, but not enough to satisfy them, so we jumped ahead a few experiments and found one in which the light would react to our voices. This design was more complex and required a bit of troubleshooting, but eventually all the right components were in all the right places and they had a blast talking, singing, and yelling to see how the light reacted to their voices, as you'll see in the video.
Much to their chagrin, I shut down the operation after that, but they're eager to return and experiment again. Heck, I even have a handful of women waiting for me to host a mom's night out so we can play with the kit.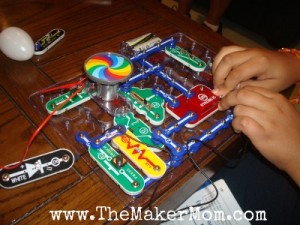 In addition to the components needed to build more than 175 experiments (that all store neatly away into a single box), the kit also comes with a colorful experiment guide. The guide includes several pages of educational material about how we see and interpret light.
The set also includes:
Infrared Detector (it's really cool!)
Stobe Light
Color Changing LED
Lighted & Glow-in-the-Dark Fans
Strobe integrated circuit (IC)
Fiber Optic communication
Color organ controlled by iPod® or other MP3 player, voice or finger
Pre-punched patterns for motor
I'm a big fan of the Snap Circuits line. It's a educational product that can grow with your child. The set recommended for ages 8 and up, but I could see buying this for a curious and well-supervised kindergartener. The set retails for $79.95
We rate this product a 5/5 gears!

5 gears for Snap Circuits Light Set
Disclosure: This product was sent to me by Elenco with no stated expectations. I enjoy sharing products that help kids love science.
Like The Maker Mom on Facebook. Follow us on Pinterest. Subscribe to us videos on YouTube.