Today's STEM Girl Friday features, well, me! I built my first Arduino last night. Technically it's an Arduino compatible "Boarduino" constructed from a kit by AdaFruit*. I signed up for the Arduino for Newbies class thinking we'd solder a couple of things and then program our Arduino units to do cool things, a relatively simply process, but not one I've pushed myself to learn independently.
Instead of a complete Arduino microcontroller, this is what students received.
In case you didn't notice, that's a circuit board and pile of components. The bulk of the class was spent assembling it.
Although convinced that I was the biggest technospaz in the room, it was a pretty packed room, so at least I didn't stand out. The students were a mix of men and women (mostly men), with one father-son combo and a light sprinkling of ethnic diversity.
In my limited experience, that's seems to be maker crowd in a nutshell.
My son tried to teach me to solder a few months ago, but I didn't do very well. I realize now that one of my issues was our set up, but that should change now that we're getting our basement makerspace into shape. Also, I finally got bifocals, which also, too. But I think I still need a magnifying lens. Those components are tiny!
At any rate, Mitch Altman's Soldering is Easy comic book was a good guide, and it's open source, so read it, copy it, share it. In then end, rather than soldering a few connections, I soldered closer to 100. (Okay, maybe closer to 70, but it felt like more.)
I not only built my skills, but got a hands-on lesson in capacitors vs. resistors vs. transistors. And I learned what a solderless breadboard is and how to use it. That's especially handy given that I picked one up at an estate sale last week. A local retired engineer is moving to Florida and selling off the pieces of his basement workshop.
So yes, I learned, I built skills, but I would not call it a fun experience. It was stressful and frustrating. I felt like I needed a cigarette when I was done and I don't even smoke. In fact, I've never smoked a cigarette in my life.
On the other hand, I was so focused on what I was doing that my mind was blissfully clear of, well, pretty much everything else as I tried to fit the various small components into place.
Ah, the beginner's mind.
As we neared the end, I noticed one of my tablemates made a mistake on his board. Then I realized the other folks did, too. And then I realized I was the one who made the mistake.
Imagine spending an hour or two soldering what seems like hundreds of connections only to realize that it was all ruined by a single connection.
I was ready to head to my car and cry. It was almost midnight, I was tired and I worked hard only to fail. FAIL.
But it turned out the problem could be fixed. Mitch did it for me, but I was pleased to see that his fix involved something I'd started doing, but didn't think would work out. Maybe my instincts aren't so bad, even if I am still a technospaz.
And if I keep at it, maybe in a few months I won't even be such a technospaz.
Here's is my finished Boarduino: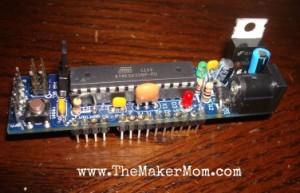 Boarduino top
Boarduino bottom
P.S. It works!
* Note to self: Lady Ada would be a much more compelling subject for SGF than I am. Request an interview.
Like The Maker Mom on Facebook. Follow us on Pinterest. Subscribe to us videos on YouTube.