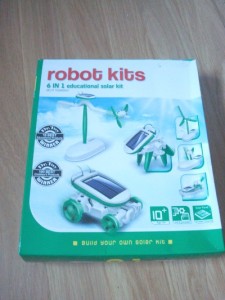 We found this 6-in-1 Educational Solar Kit (affiliate link), unopened, at a garage sale. It was quite a score at only $2. The kit normally retails for anywhere from $5 – $20.
In an ideal world, I would have sat down with my tween and built the robot together so I could write about the experience. What happened, though, was that I blinked and suddenly he was on his third robot project.
He needed some help holding some small pieces in place and he tried to fit a wire in here or there, but I was never asked for any other technical assistance. That's usually my job, anyway. I mean I'm the asker, not the answerer.
Using the visual instruction booklet provided, my son built the solar windmill, solar airboat and the solar puppy you see below.
We'll save the snap-together pieces so he can revisit these projects, but we might swipe out the solar module to use for other maker projects in keeping with my theory that kits are the gateway drug to further exploration.
solar robot puppy
The 6 in 1 Educational Solar kit is recommended for ages 10 and up. As with most products, I'd say that under the watchful eye of an adult, a much younger child could build these bots, though they might need assistance.
Do you like to talk about things like making and science? Join for #STEMchat on Twitter, Tuesday, August 21 at 8 PM Central. In August we'll be talking about how to get your kids to love science.
Like The Maker Mom on Facebook. Follow us on Pinterest. Subscribe to us videos on YouTube.